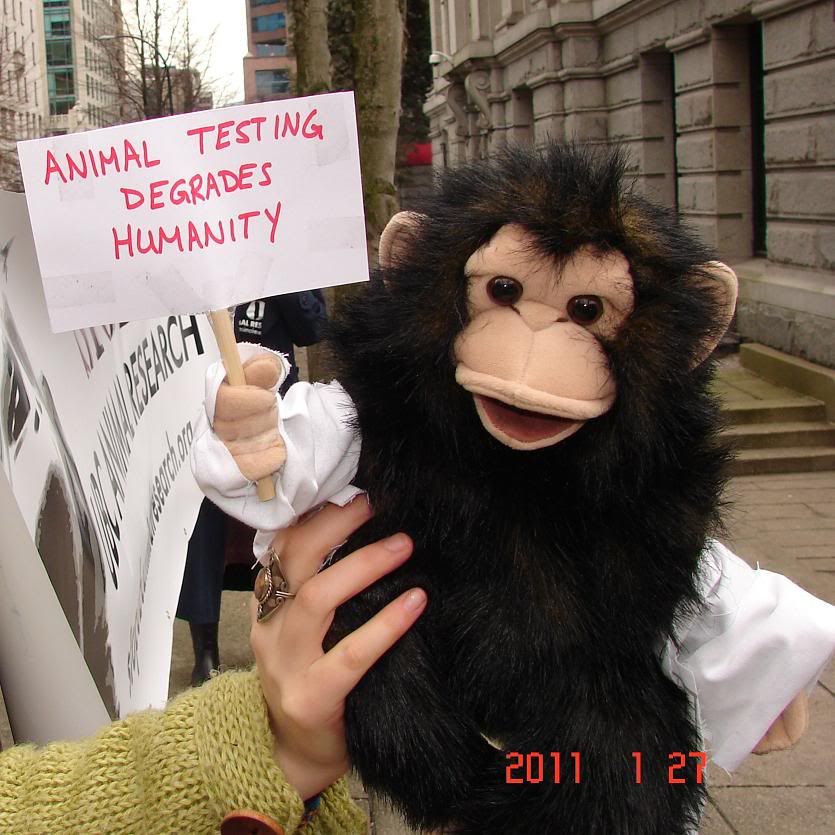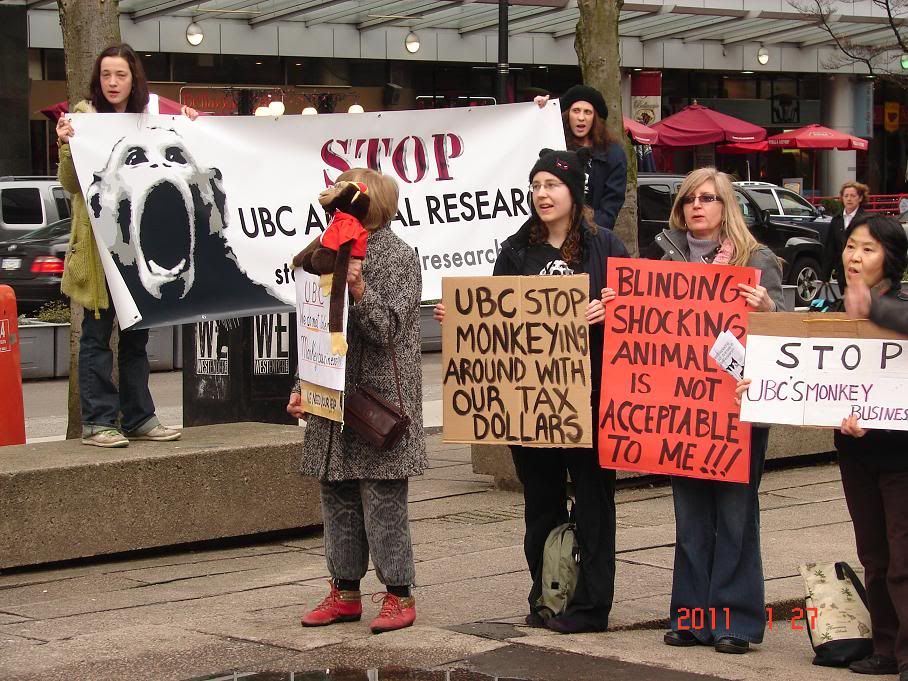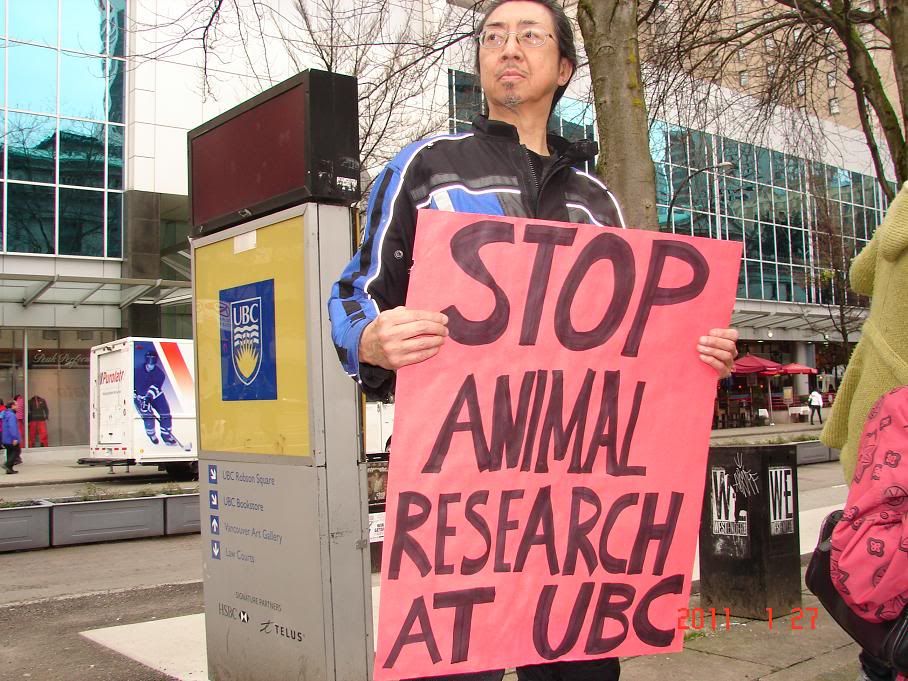 [Anthony Marr, UBC alumni]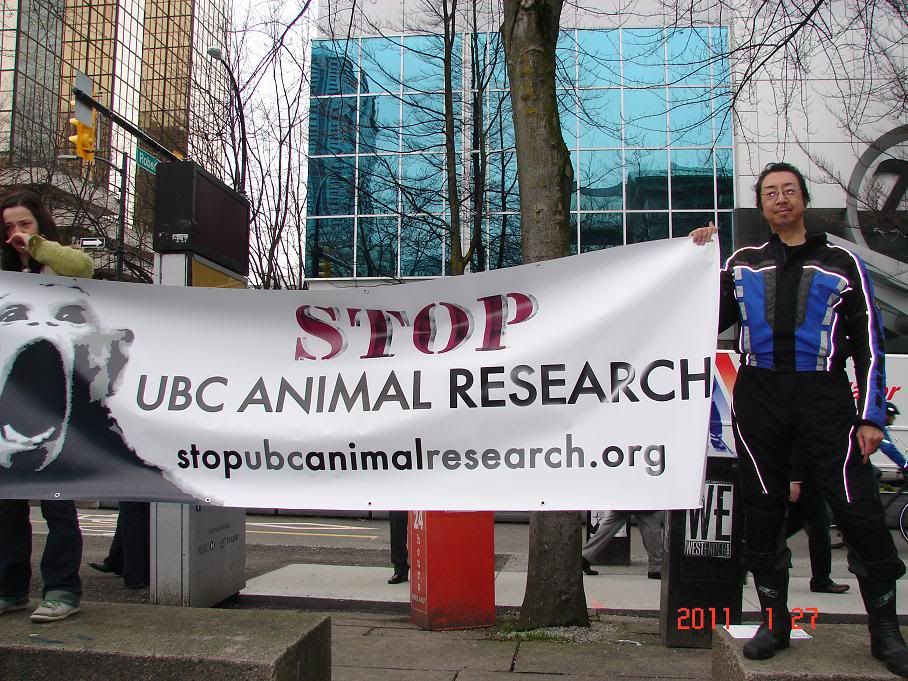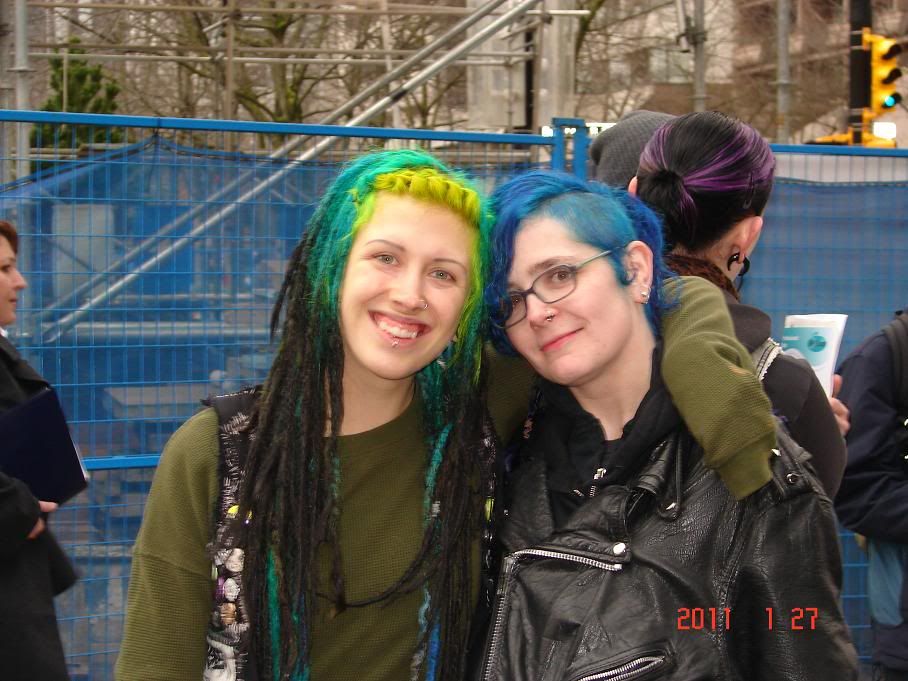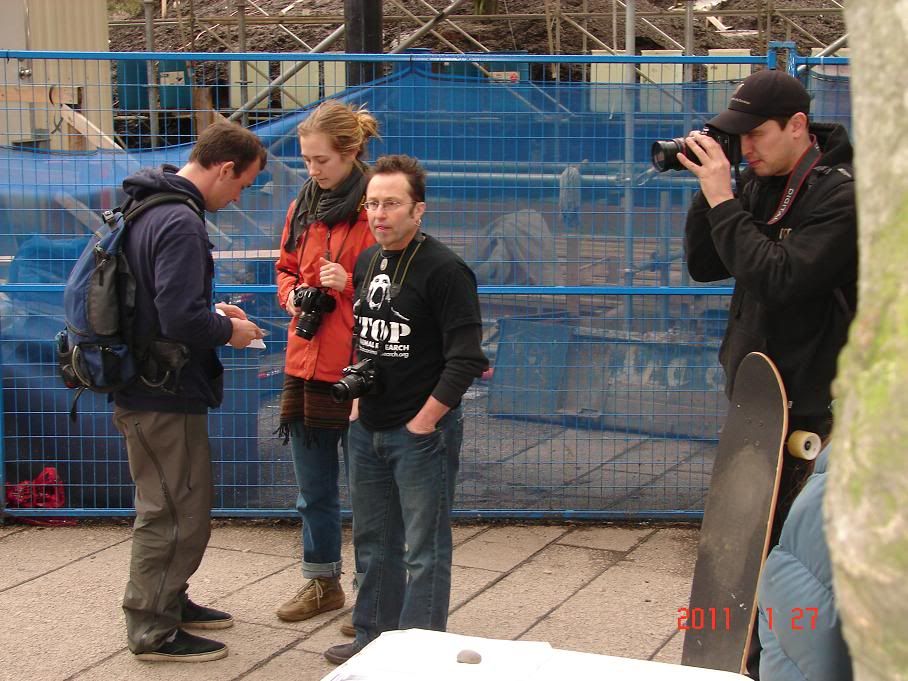 [Event organizer Brian Vincent]
From event organizer Brian Vincent:
STOP UBC ANIMAL RESEARCH'S "UBC MONKEY DEATH ROW" DEMO
Yesterday, Stop UBC Animal Research staged a "UBC Monkey Death Row" demo at the Vancouver Art Gallery to protest UBC's brutal experiments on monkeys. The event, which included activists dressed up as monkeys in jail suits and in chains locked in a mock jail cell, as well as a crowd holding signs that read "UBC, no more monkey business" and "Dead Monkey Walking," was an outstanding success.
We received extensive media coverage. Below is a list of media that covered our event, as well as links to stories and photos.
*Vancouver Courier
*News1130
*CKNW (doing story Sunday. Tune in after 4PM)
*CTV
*City TV
*Ming Pao news wire service
*Sing Pao news wire service
*BCIT evolution radio
*The Beat
*The Province
*UBYSSEY (Doing story next week)
*The Gazette
LIST OF STORIES SO FAR
http://www.ctvbc.ctv.ca/gallery/html/monkey_110127/photo_0.html
http://www.news1130.com/news/local/article/175096--animal-activists-want-ubc-to-stop-using-monkeys-for-research (BE SURE TO VOTE ON NEWS1130'S ONLINE POLL)
http://www.theprovince.com/life/Protest+stop+animal+research/4180254/story.html
http://www.bcitbroadcastnews.ca/2011/01/27/no-monkeying-around-at-ubc-today/
http://www.vancourier.com/news/Animal+testing+opponents+discard+humanity+hope/4169978/story.html
http://www.westerngazette.ca/2011/01/28/a-testing-issue-animal-testing-at-western/ (article isn't about our event but about our campaign)
http://www.howdee.net/stop-ubc-animal-research/
YOU CAN ALSO SEE PHOTOS OF TODAY'S EVENT AT:
http://www.facebook.com/?sk=messages&ref=mb#!/album.php?aid=324086&id=614844008&fbid=10150143925064009
STOP UBC ANIMAL RESEARCH CALLS ON AIR CANADA TO STOP SHIPPING MONKEYS INTO CANADA FOR RESEARCH
http://www.cbc.ca/technology/story/2011/01/25/science-monkeys-aircanada.html
Stop UBC Animal Research is a community grassroots campaign that employs peaceful, legal, and compassionate approaches to educate the public about the grim realities of research on animals at the University of British Columbia and to ultimately bring about an end to research on animals at UBC. Please visit our website at: http://stopubcanimalresearch.org/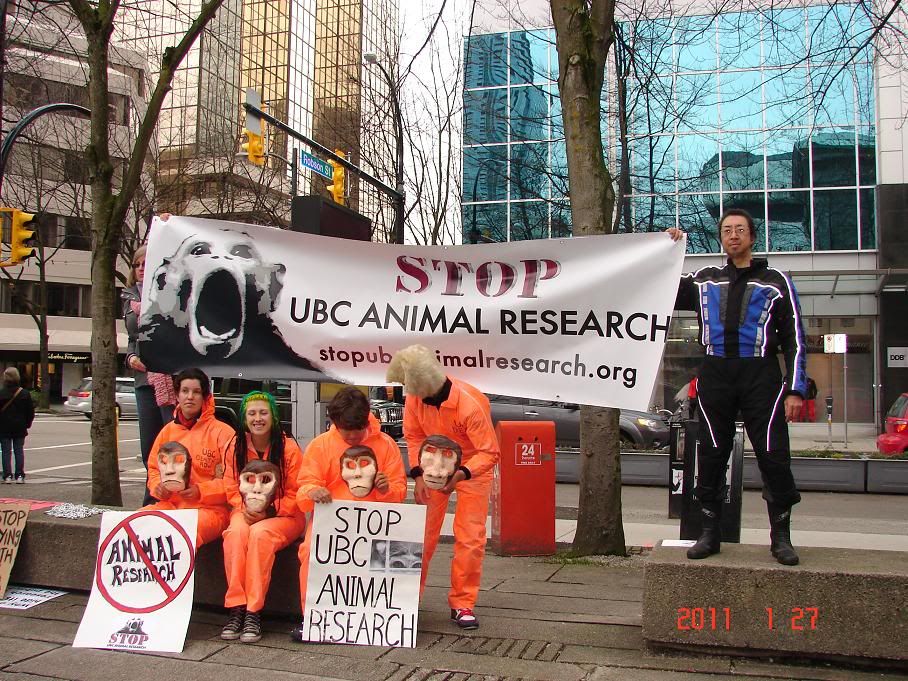 All pictures by
Anthony Marr, Founder and President
Heal Our Planet Earth (HOPE)
Global Anti-Hunting Coalition (GAHC)
Anthony-Marr@HOPE-CARE.org
www.HOPE-CARE.org
www.facebook.com/Anthony.Marr.001
www.facebook.com/Global_Anti-Hunting_Coalition
www.myspace.com/AnthonyMarr
www.youtube.com/AnthonyMarr
www.HomoSapiensSaveYourEarth.blogspot.com
www.myspace.com/Anti-Hunting_Coalition
www.ARConference.org