This is for those who may have entertained, however vaguely, the delicious dream of going to Taiji to raise some hell. I realized this dream. Will you?
My dream was more than just going to Taiji to raise some hell, but exactly what kind of hell I was going to raise. I had devised a technique to communicate with bottlenose dolphins, and I wanted to go and tell the Taiji bottlenose dolphins to never, ever, enter The Cove. It wasn't a proven technique, and I wanted to test it in Taiji, and save some dolphins while at it. Other activists go to Taiji to document the massacre for the world to see. And thanks to their work, I too had been motivated to come. But I didn't want to document any massacre. I wanted to prevent the massacre from happening, so that there would be no massacre to document.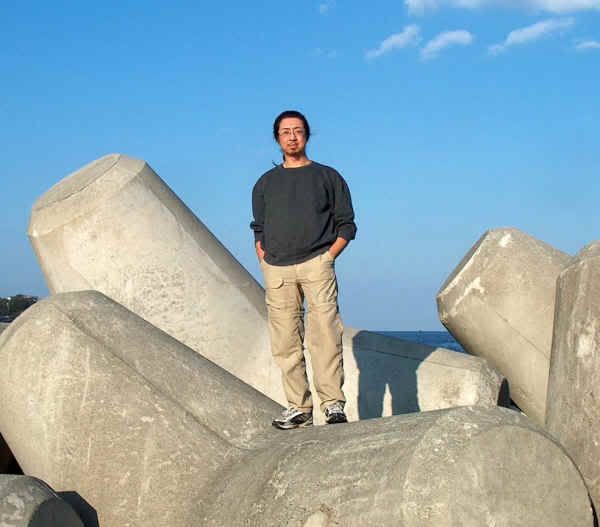 I cannot reveal my actions blow by blow. Suffice to say that during those two weeks of my being there at Taiji, not a single dolphin died. It should be on their record that during those two weeks in November of that year, not a single dolphin was captured or killed. I would have stayed longer, but one day, when I was parking the rental car at a restaurant in Katsuura, the nearby town with the hotels, an unmarked car pulled up and blocked it, and, as in Shimonoseki, two men came out, and one talked to me in English. His opening line was, "Mr. Marr, I would like you to follow us back to your hotel please, which we believe is the Blue Horizon?" Not a question. There, in the cafeteria, they interrogated me for close to two hours, after which they politely asked me to basically get out of town by sundown. It was heart-breaking to have to leave, but I would rather leave prematurely than not be able to leave at all, so that I could go back another day.
This article is not to tell you what to do in Taiji, but to show you Taiji itself, so that you can figure out what to do yourself.
Taiji is a small town of 3500 in 6 square kilometers in the Wakayama prefecture on the "groin" of Japan, and best accessed by car from Osaka. The coastal route is recommended, because if you had taken the inland route, you would have missed at least the sight of the two coastal whaling harpoon boats in dry dock which you otherwise most likely would never see.
Upon approaching Taiji, you will see signs of welcome, although in Taiji itself, a rental car with Tokyo plates is considered alien.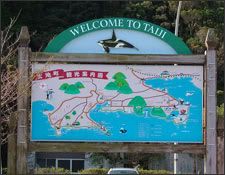 Note that there are just two roads going in and out of Taiji that connect to the highway.
Just before you turn off the highway (R42) into Taiji, you will see a beautiful bay with pearl cultivation in evidence.
As soon as you turn into the Taiji road, the first thing you will see is the sculpture of a Humpback whale and her calf. The Humpback whale has been extirpated in these parts. This reminds me of the California state flag, yes, the one with the Grizzly bear, the only Grizzly bear left in California, or the Bald eagle driven to extinction in the U.S. Even today, Japan wants to hunt Humpback whales in the Antarctic.
And you will see signs advertising "Swim with dolphins" programs.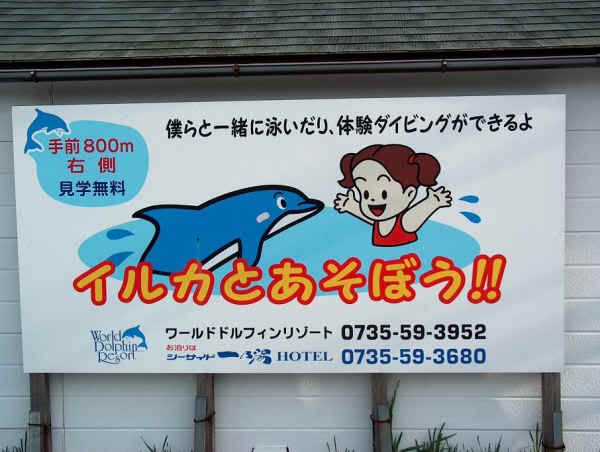 Within a couple of hundred yards from the Humpback whale statue and to your left you will see the "World Dolphin Resort", which is no resort for dolphins. More like a prison.
These pens are the permanent home of the captive dolphins.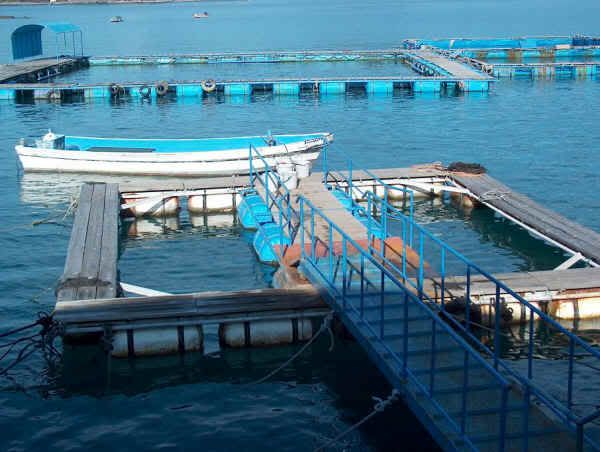 Within this dolphin prison, dolphins are "trained" to do meaningless things for the entertainment of humans.
Right across the road on the right hand side you will see Dolphin Base, which is the company that provides the World Dolphin Resort with their captive dolphins, which they capture right here in Taiji.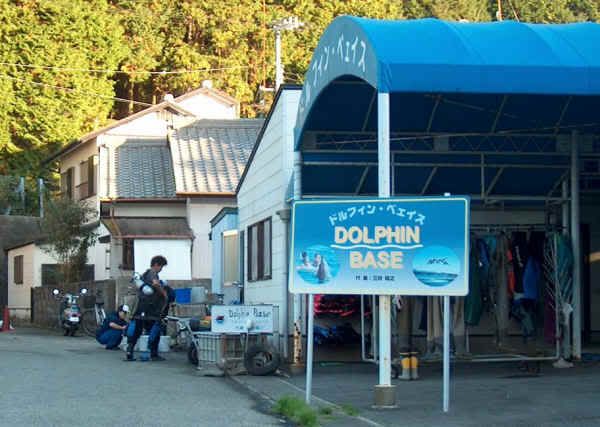 And they ship dolphins to aquariums which would accept wild-caught dolphins, like this one in China.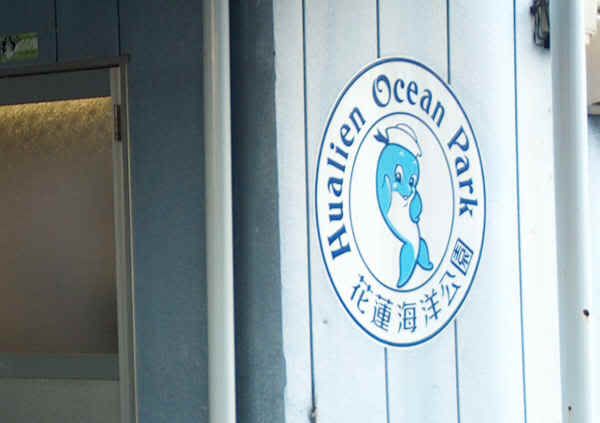 About a half mile down the road you will come across the Taiji Whale Museum complex.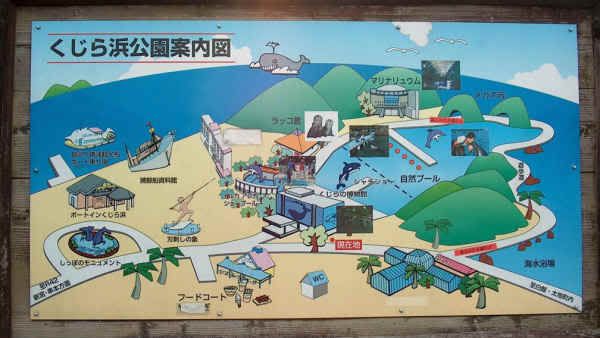 Externally, it is classy and almost enchanting.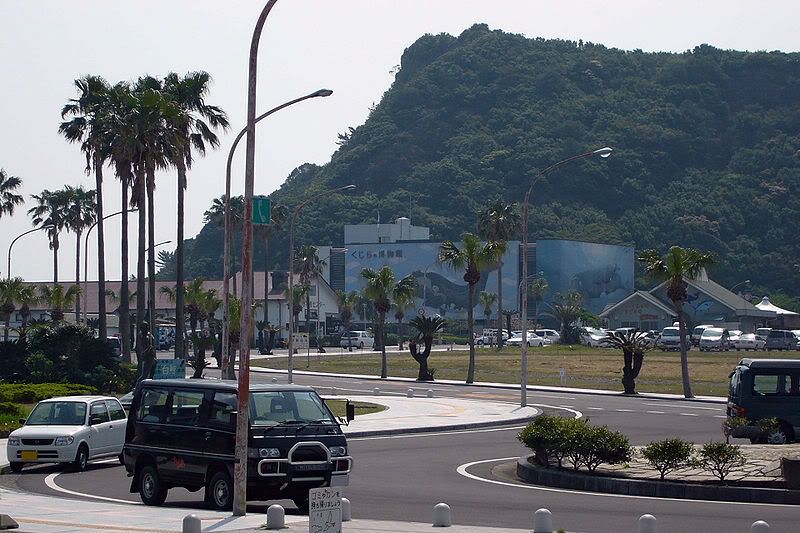 It glorifies a decommissioned whale-killing marine-machine, behind the bronze statue of a pre-industrial whaler.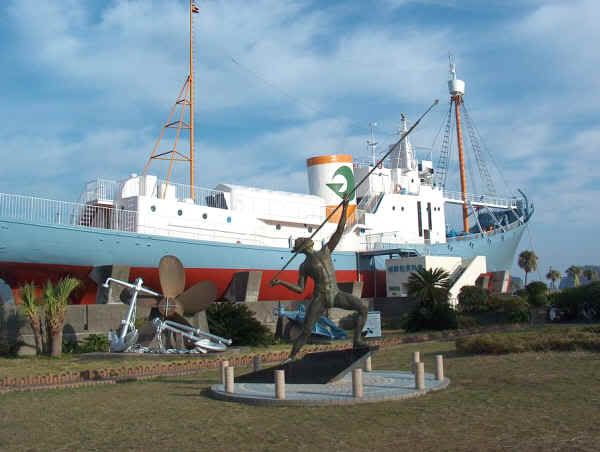 Even their art is anthropocentric and domineering over the dolphin.
The Taiji Whale Museum should really be called the Taiji Whaling Museum,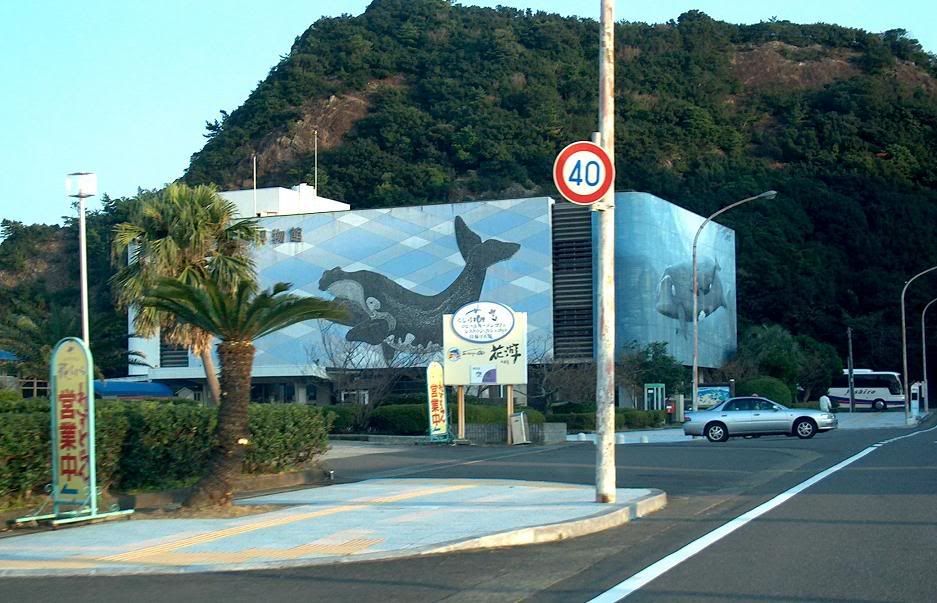 with its arsenal of anti-whale weapons, anything from medieval hand-thrown harpoons and canoes, which in this case was targeting the also extirpated right whale,
to multiple-harpoon launchers,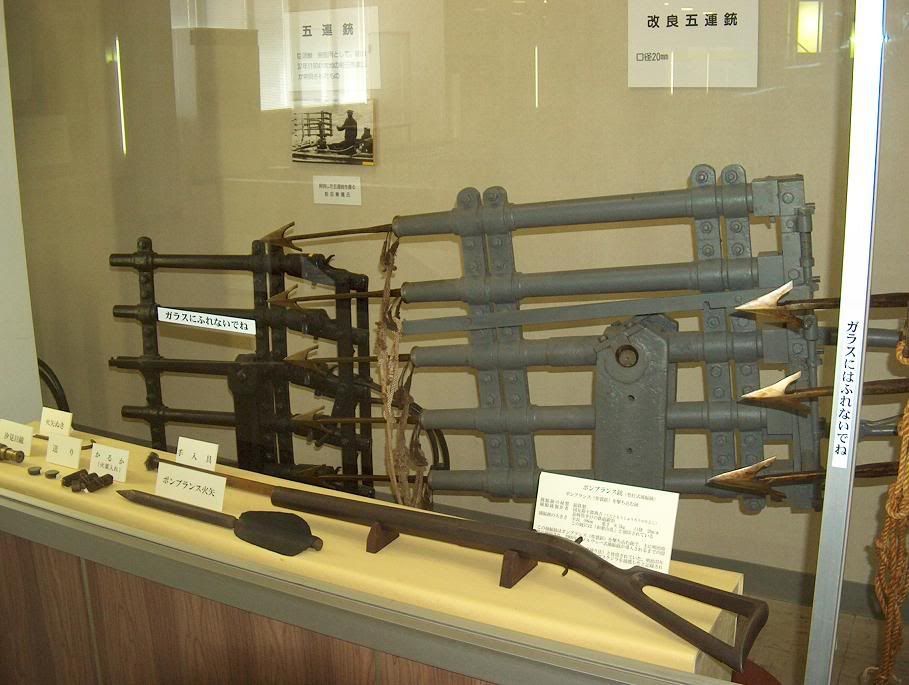 to explosive warheads so heavy they don't even need to be sharp to penetrate the bodies of the whales,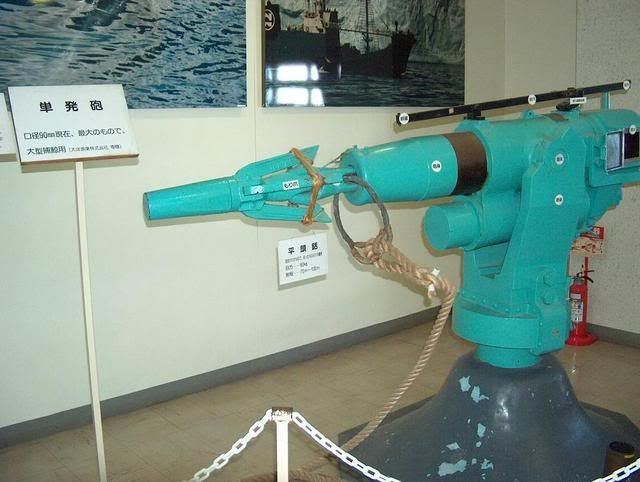 to the awesome remains of the victims, in this case, an Orca,
to dioramic depictions of pre-industrial whaling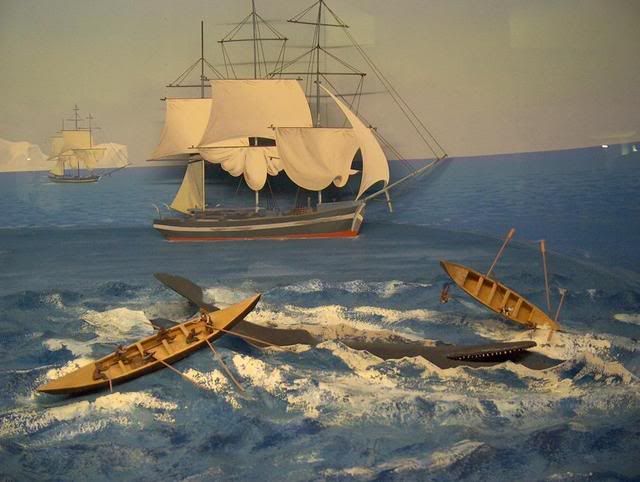 and post-industrial whaling,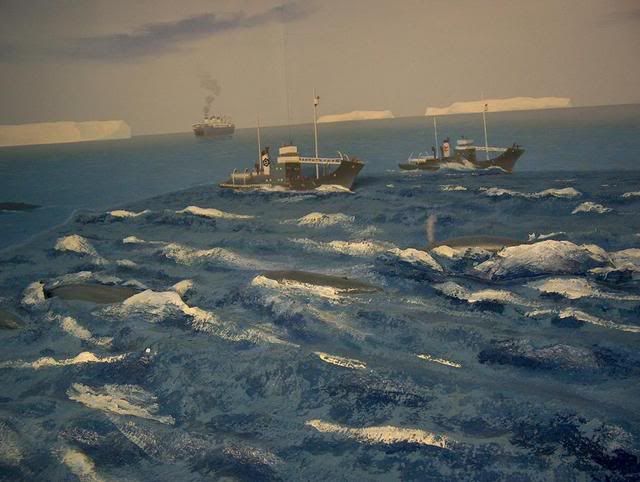 and, surprise! Whale meat for sale!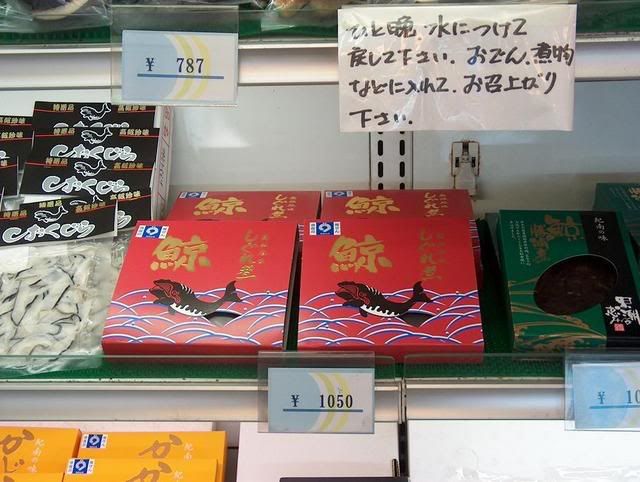 Smoked or barbecued, what's your pleasure?
And how about some hi-mercury dolphin stew?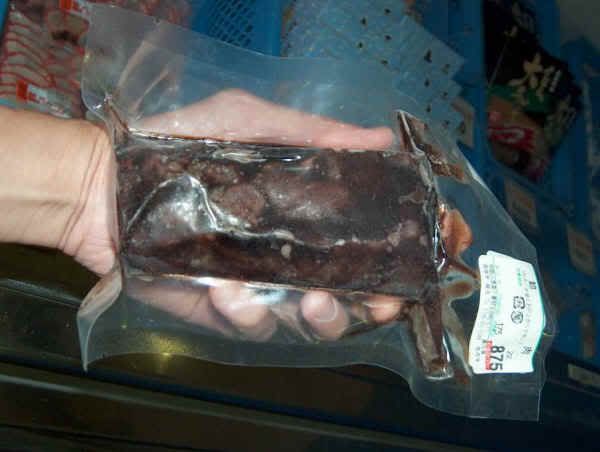 And where did the dolphin meat come come?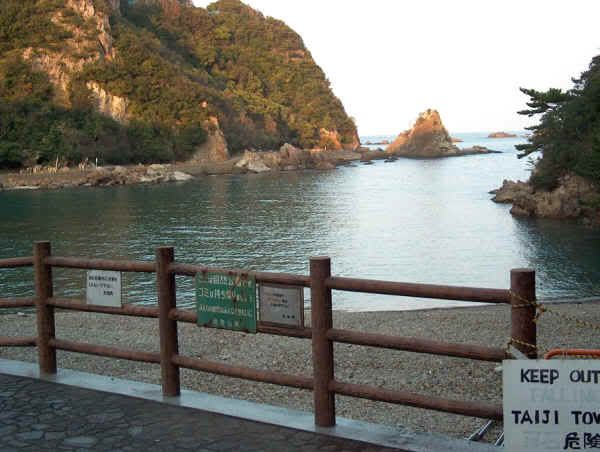 Another couple of hundred yards, and you will arrive at - The Cove.
In red: "Falling Rock! No Entry." The only rock that might fall could only be a meteorite.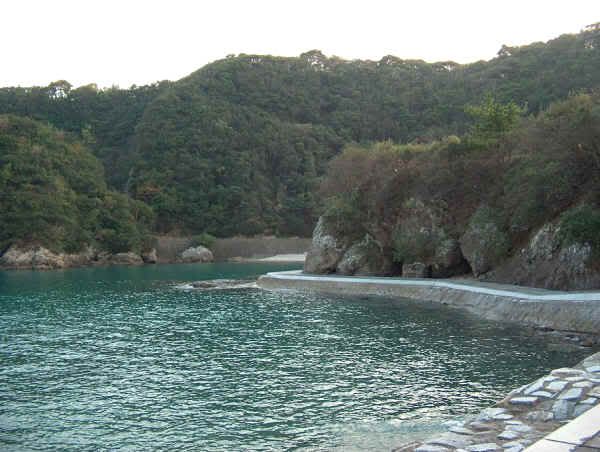 Since I ignored the "No Entry" order, I might as well check out all angles.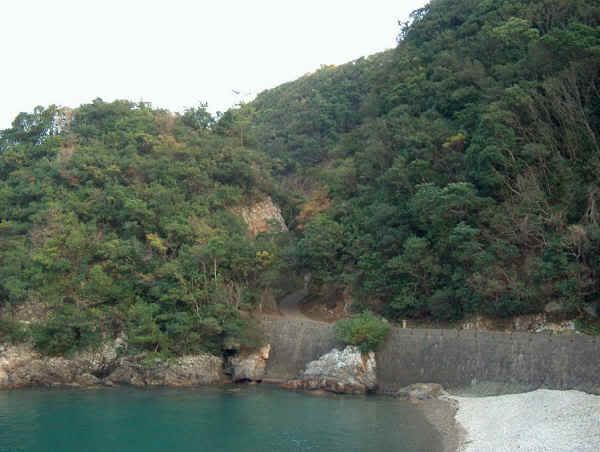 Since this bay is visible from the road, it serves as the holding bay.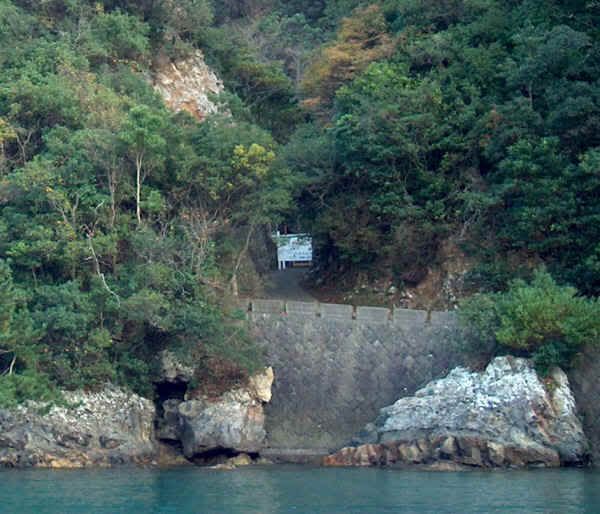 The slaughter takes place in the adjacent bay, which is hidden from the road, and from the world.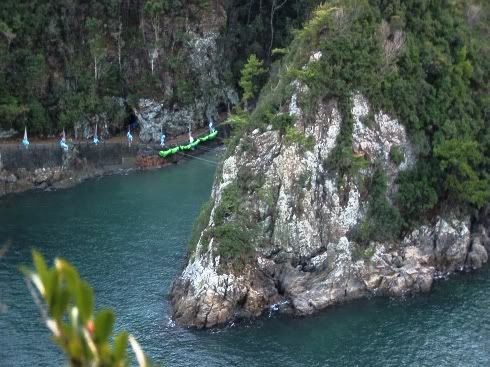 Blatantly, they have blocked off the access path to the killing bay.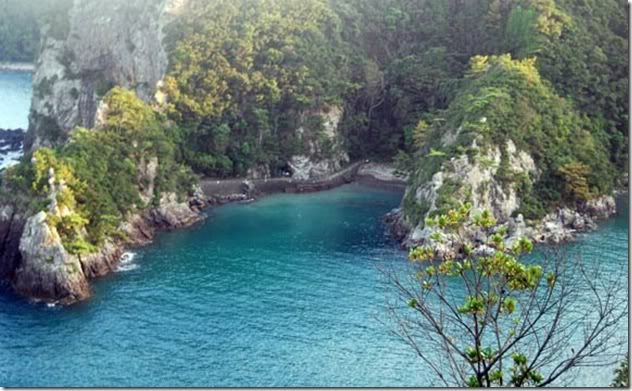 They would herd the dolphins into the killing bay, and cordon them off with boats and nets. Dolphin Base divers would go into the water and pick and choose a few young females for aquariums and "swim with" programs, while the rest are slaughtered.
Due to international outcry, they have taken to killing the dolphins under a tarp, but nothing can hide the blood.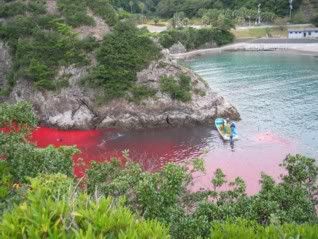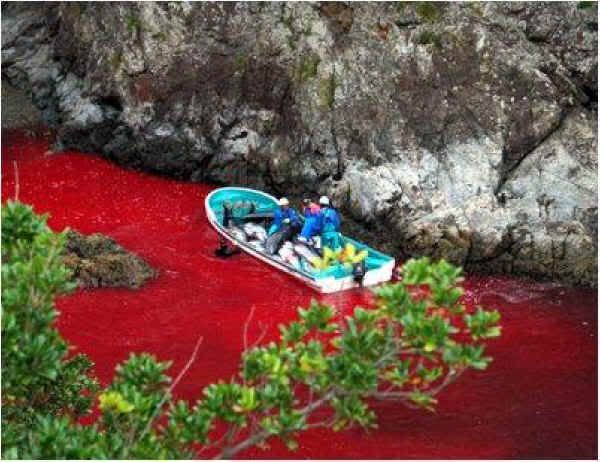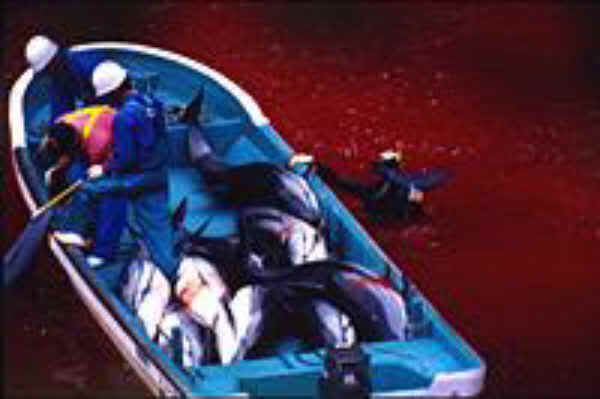 Where not even babies are spared.
And they committed hara kiri
not on themselves, the cowards, but on the dolphins, the sadists!
The skiffs moved the dolphins like so many sacks of potatoes, around the protruding breakwater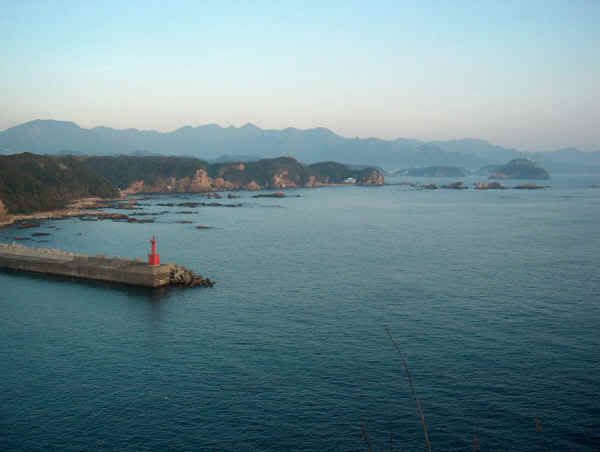 into the picturesque Taiji Harbor, dead center of which being
the fishermen's coop and the butchery
where they have installed canvass curtains to conceal their atrocity.
In Taiji, there are only 27 dolphin killers and only 13 dolphin-killing boats,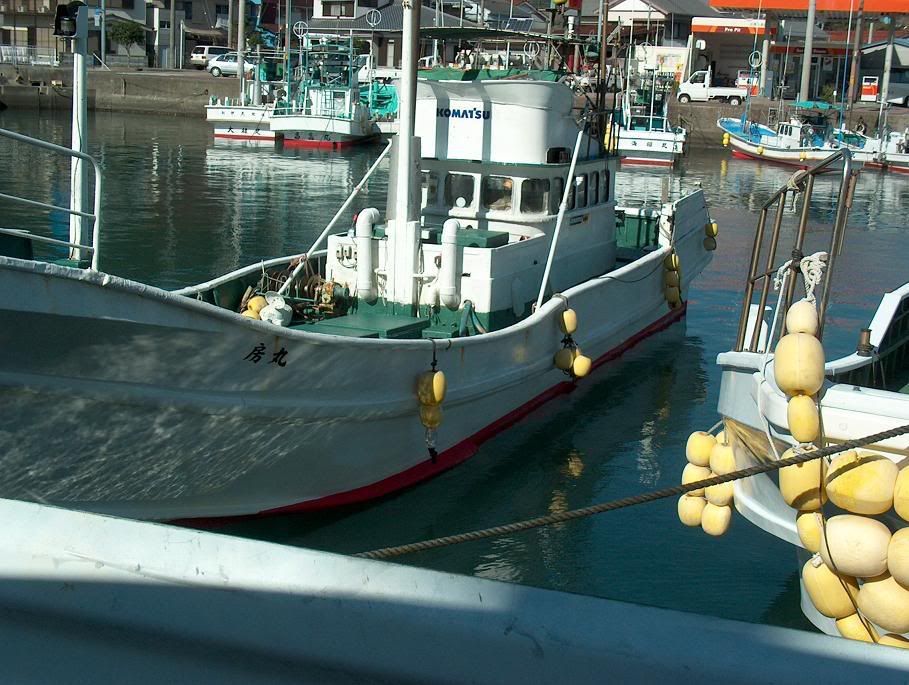 and they arrogantly hold the whole world hostage.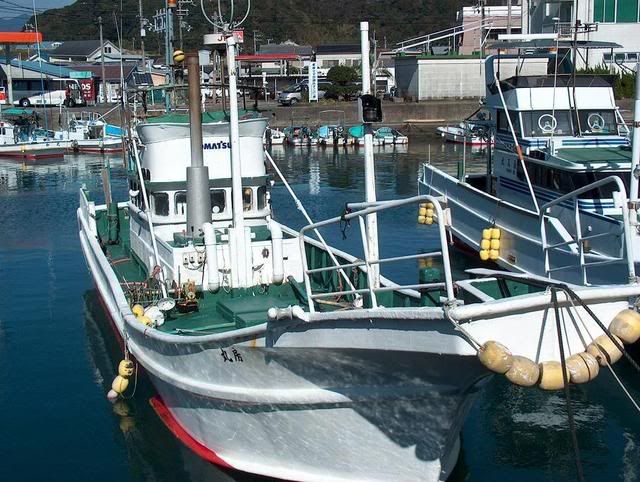 A dolphin-killing boat can be distinguished from the common fishing boats by the existence of the flared sounding rods, which are tipped into the water and hammered as a means of driving dolphins.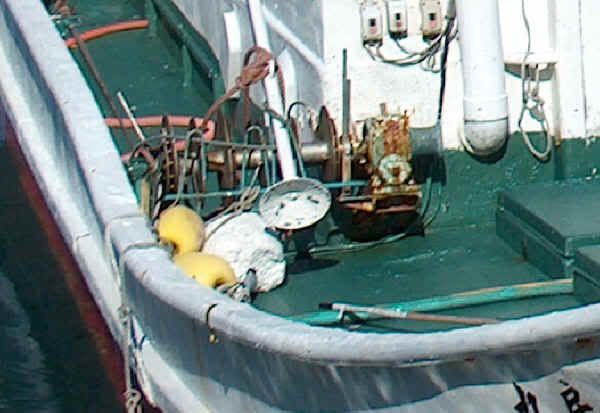 And here is its vulnerable underbelly, if you know what I mean. ;)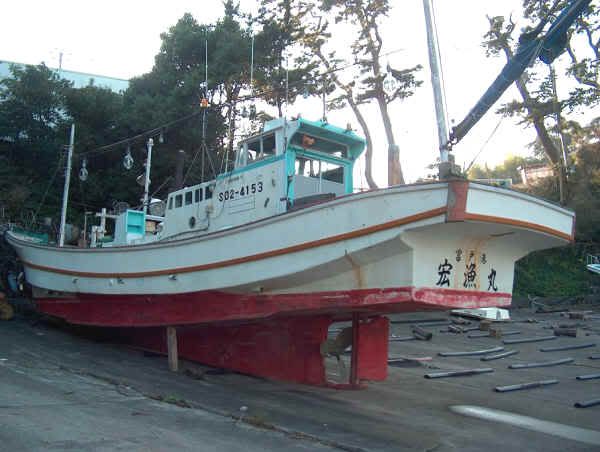 Another map of Taiji, and you won't believe what it says.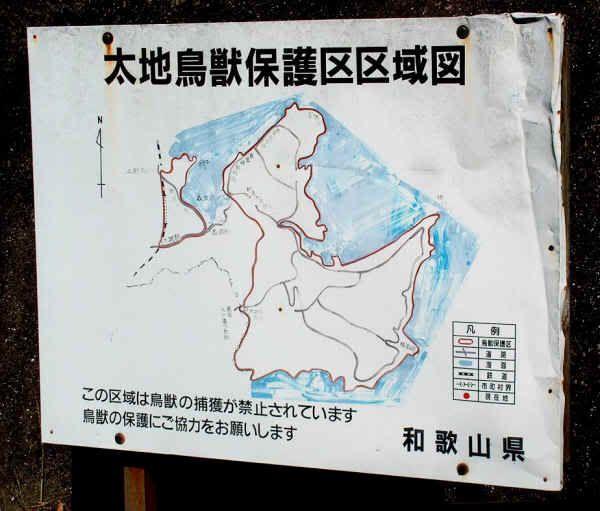 Would you believe "Taiji Wildlife Protection Area"?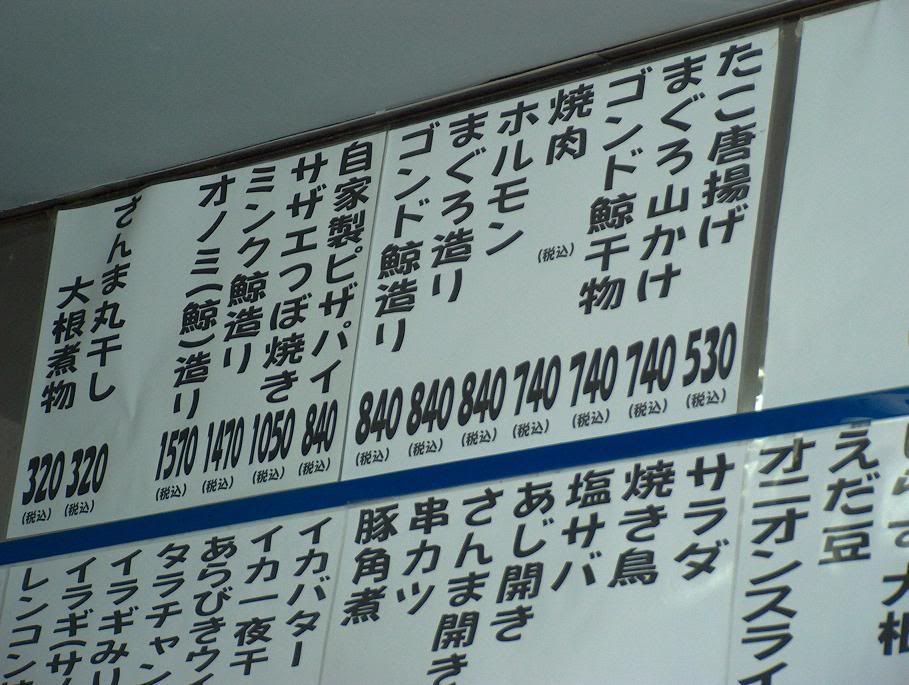 Meanwhile, restaurants abound with a broad range of whale and dolphin cuisines, while a boat that could be used for whale and dolphin watching sits idle.
And meanwhile, Anthony Marr sat in the moonlight, communicating with the dolphins.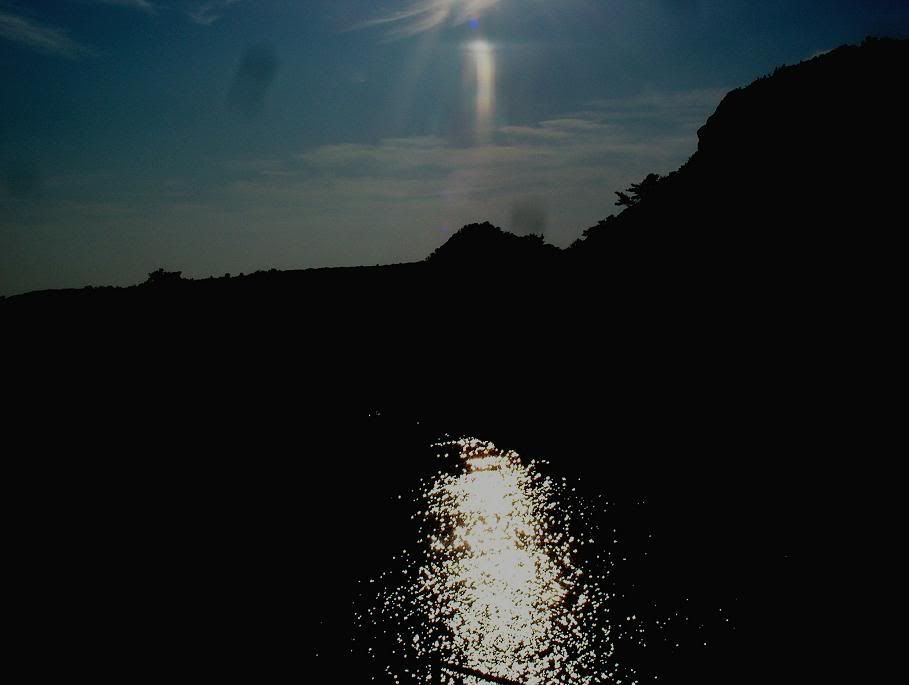 Most photos by Anthony Marr, some from SSCS.
Anthony Marr, founder and president
Heal Our Planet Earth (HOPE)
www.HOPE-CARE.org
www.MySpace.com/AnthonyMarr
www.YouTube.com/AnthonyMarr
www.HomoSapiensSaveYourEarth.blogspot.com
www.ARConference.org
www.AnimalVoices.org