2010-07-12
Anthony Marr's CARE-7 tour blog #24
New Jersey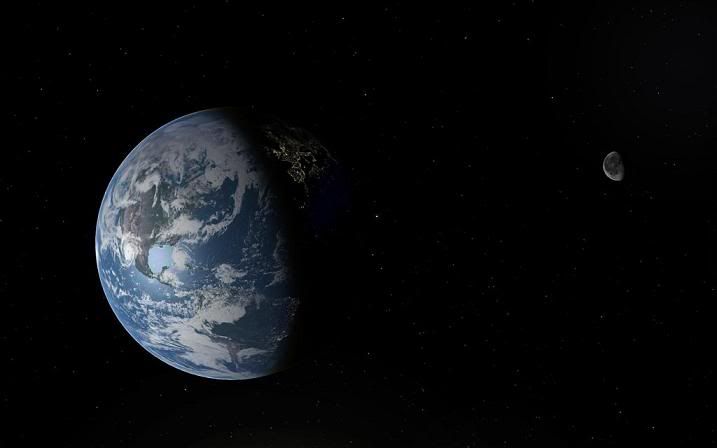 Line up in single file all the cows killed per year in the U.S.A., and it will stretch between Los Angeles and New York City back and forth 16 times.
[Hope, Anthony and Baby Declan]
Line up in single file all the pigs killed per year in the U.S.A., and it will stretch between Los Angeles and New York City back and forth 34 times.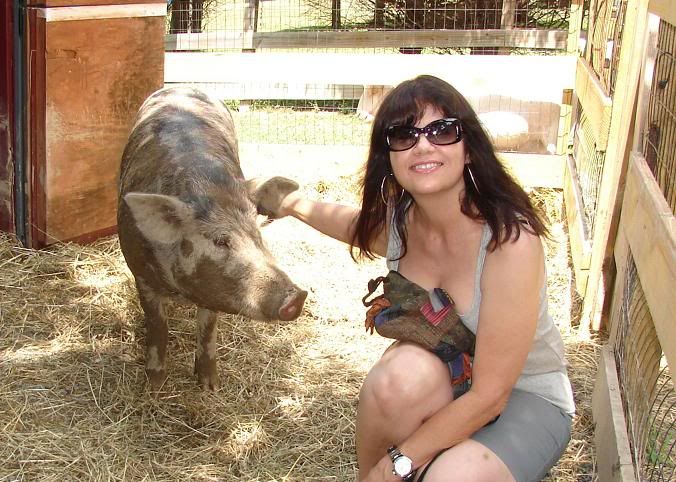 [Brutus and Catherine]
Line up in single file all the chickens killed per year in the U.S.A., and it will stretch between the Earth and the Moon (Earth-Moon distance 384,000 km / 239,000 mi) back and forth 8 times.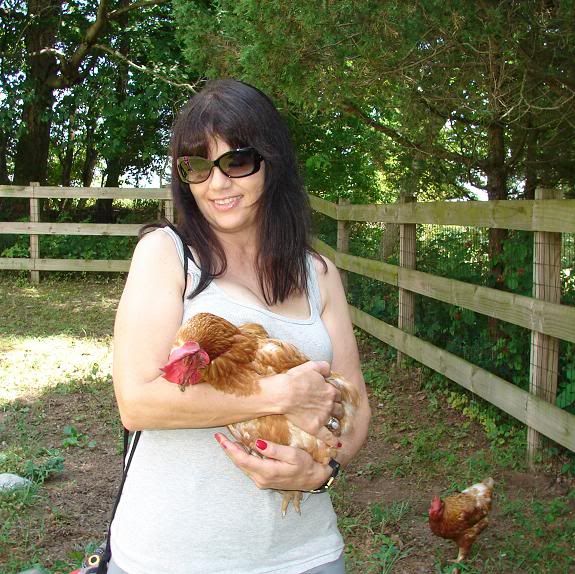 [Note the hen's severed beak]
These are the thoughts that passed through my mind when I visited the For The Animals Sanctuary of Debbie and Steve Kowalski in Blairstown, New Jersey, yesterday. The visit resulted from a "last minute" arrangement by Steve E. and Catherine, and Debbie put up the following announcement in Facebook last week, bless her heart:
[Steve E. on left, Debbie in green]
"For The Animals Sanctuary is celebrating: 'WE GOT RAIN' this morning and last night!! We also trimmed the goats hooves today. The girls are ready for Visiting Day and Anthony Marr tomorrow---- YIPPIE!!
"For The Animals sanctuary Visiting day and Anthony Marr presentation
Date: Sunday, July 11, 2010
Time: 12:00pm - 4:00pm
Location: For The Animals sanctuary
Street: 8 Cherokee Trail
City/Town: Blairstown, NJ
"Anthony Marr presentation will be from 2-3:30
Sanctuary tours are from 12-4pm
"Anthony Marr is a world renowned environmentalist and animal rights activist, has a degree in physics and is the author of 2 books on environmental issues. A wildlife preservationist since 1995, his work in India garnered him the title of "Champion of the Bengal Tiger" in the award-winning TV-documentary series "Champions of the Wild" which aired in 20 countries on the Discovery and National Geographic channels.
"He has also been to Japan twice to advocate for the whales and dolphins, and was recently honored with the title "Best All-Around Activist of 2010" by two top U.S. animal rights organizations. He has conducted several high-profile campaigns against the seal and grizzly bear hunts in Canada, and deer culls and sea lion extermination in the US. Anthony has conducted 6 Compassion For Animals Road Expeditions (CARE) with this being his 7th such tour. Anthony Marr is the founder and president of Heal Our Planet Earth (HOPE) the Global Anti-Hunting Coalition (GAHC).
"Want some cow kisses, goat rubs, chicken kisses and mud kisses from pigs. Come on out to our visiting day at for the Animals sanctuary. Bring a Vegan lunch and a blanket to sit on and enjoy our beautiful sanctuary grounds.
"In order to help us plan our day, it is helpful to please RSVP to a visiting day
or call us 908 362 5224 begin_of_the_skype_highlighting              908 362 5224      end_of_the_skype_highlighting
"Minimum donation for admission to sanctuary is $10/adult and $5/child (5-15yrs). All donations go toward caring for the animals.
"**Please note this is a vegan sanctuary, and out of respect for the animals we ask that any food you bring on the premises be vegan, which means no dairy, eggs, cheese, fish, and meat of any kind. If you have any questions about what might be a suitable lunch, please feel free to contact us. You are also more than welcome to bring a non alcoholic vegan beverage."
July 10, Saturday
I got up at 3:45 a.m. to drive from Steve E.'s house in Middlesex, New Jersey, to the Philadelphia Int'l Airport (PHL) to pick up Catherine Garneau who took a red-eye flight from Long Beach, California, around 6:30 a.m. We will spend a week together at and around Middlesex, then drive to DC on July 15, Thursday, to attend the Animal Rights Conference (see www.ARConference.org). It was, and still is, a joyous reunion since we bade each other farewell on May 3, when I left for Las Vegas.
[Catherine at the PHL]
Saturday evening, Steve, Catherine and I returned to Carol Davis' place for a small intimate dinner attended also by Kevin, Anna and a man from Peru, named "Wolf" who spoke at length about the Inca culture. Michael prepared for us an exquisite multi-course dinner, after which we showed them Catherine's Tigress Sita painting, which received its due applause.
July 11, Sunday, was the day we visited For The Animals Sanctuary. We spent the first two hours with the animals, which comprised cows, pigs, goats and chickens. They were mostly escapees from their respective concentration camps and torture chambers - freedom fighters in their own right. Of course, in the scale of things they were less than drops in an ocean, but they also signify hope for the millions that otherwise would end up in slaughterhouses without exception.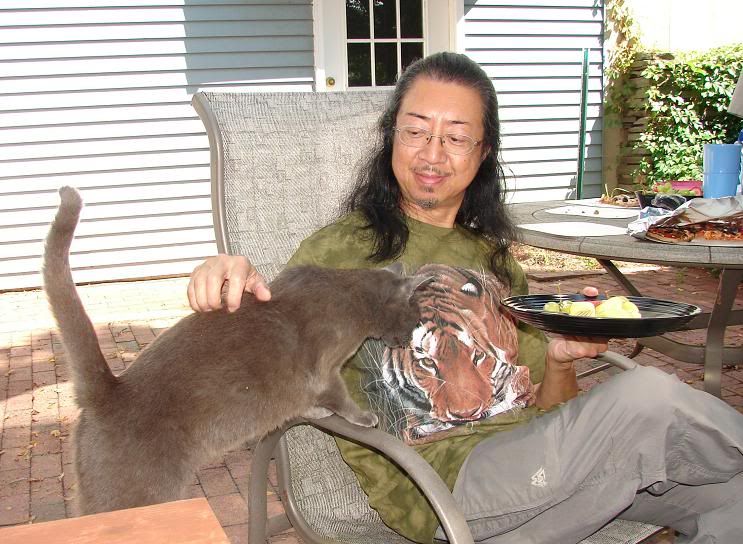 Speaking of "Hope", there is a cow there by that name. Here is Debbie's own comment about her. "Hope the cow was destined to be slaughtered in December 2009. She lived on a local PA dairy farm and became infertile. If they don't have babies they don't produce milk and would therefore be sent off to slaughter. She was lucky to be saved by For The Animals sanctuary :) She is starting to trust people now she seems to know she will not be violated here. Its awesome to see her love again :) Such a sweet cow."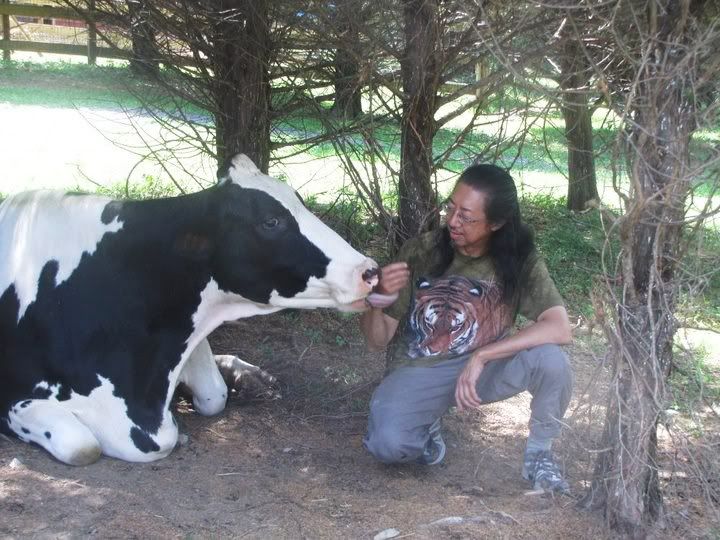 I was forewarned that Hope especially did not trust men, but when I approached her, not without some trepidation, she remained calm and serene, and allowed me to touch her. After a while, when I was stroking her face, her long, sand-paper tongue came out, and began licking my hand. All witnessing this were enthralled, not the least of all myself, and little baby Declan, son of guests Dana and Steve Read.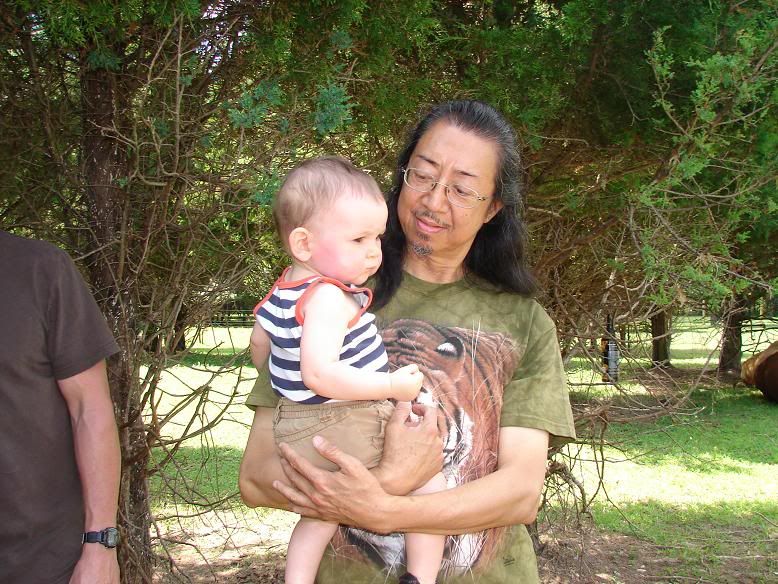 Afterward, I delivered to the small gathering my anti-hunting and global warming speech, dedicated to Baby Declan, and all were equally enthralled, not least of all myself at their enthrallment.
Debbie and a few others will be attending the Animal Right Conference, and we gleefully discussed strategies for dealing with any disruptions should they occur (see blog #23).
[Steve Kowalski and Anthony]
A few days ago, Dr. Alex Hershaft mentioned the possibility of me performing on my electronic keyboard for the opening ceremony of the Animal Rights Conference on Thursday evening, as I had done twice before. I have some practicing and derusting to do. Catherine loves my chosen piece, mistakes and all.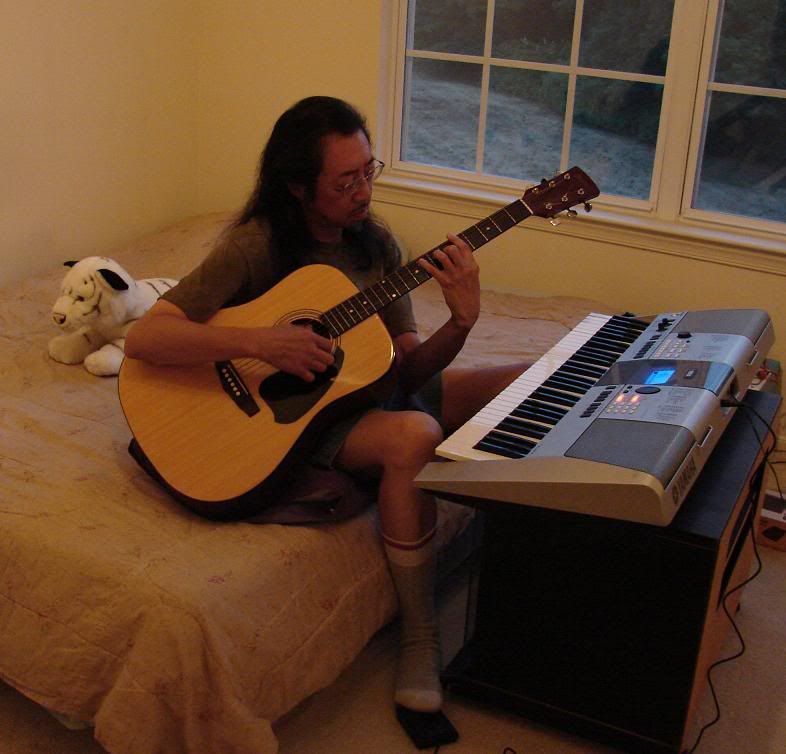 Anthony Marr, Founder and President
Heal Our Planet Earth (HOPE)
Global Anti-Hunting Coalition (GAHC)
Anthony-Marr@HOPE-CARE.org
www.HOPE-CARE.org
www.MySpace.com/AnthonyMarr
www.YouTube.com/AnthonyMarr
www.myspace.com/Anti-Hunting_Coalition
www.facebook.com/Anthony.Marr.001
www.facebook.com/Global_Anti-Hunting_Coalition
www.HomoSapiensSaveYourEarth.blogspot.com
www.facebook.com (search for "Anthony Marr Heal Our Planet Earth")
www.ARConference.org