Anthony Marr's CARE-7 tour blog #30
I have the pleasure to announce that on November 1, 2010, I returned to my home city Vancouver in British Columbia, Canada, after 20,000 miles on the road as of April 1. I rank this 40-states-in-7-months Compassion for Animals Road Expedition #7 (CARE-7) to be one of the best since CARE-1 in 2003/2004, in spite of harassment and cyberbullying along my path. In CARE-7, I gave well over 100 speeches and lectures, including the 8 I made in the Animal Rights National Conference in Washington DC, where I was honored with the prestigious Henry Spira Grassroots Activist Award.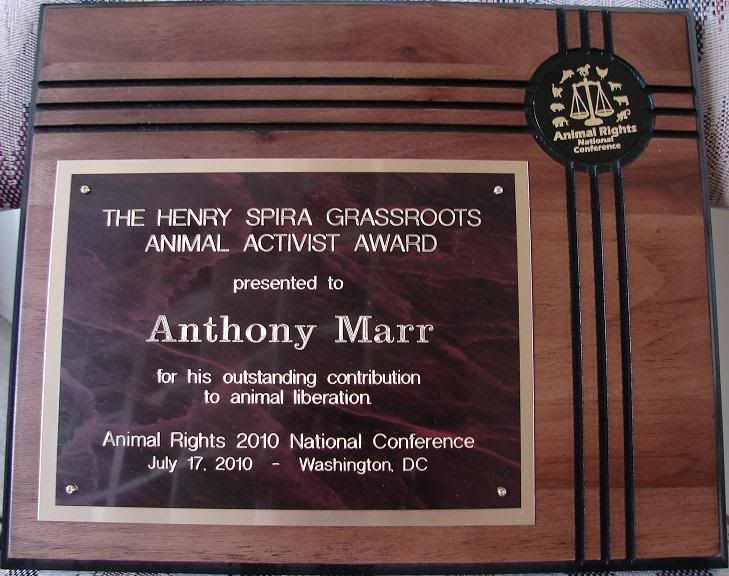 The entire 7-month tour has been encapsulated in the following 27-minute video, which contains pictures of thousands of activists who participated in the tour, to whom I owe a huge gratitude.
Anthony Marr's 40-states-in-7-months CARE-7 tour in 27 minutes from Anthony Marr on Vimeo.
See you in CARE-8!
Anthony Marr, Founder and President
Heal Our Planet Earth (HOPE)
Global Anti-Hunting Coalition (GAHC)
Anthony-Marr@HOPE-CARE.org
www.HOPE-CARE.org
www.facebook.com/Anthony.Marr.001
www.facebook.com/Global_Anti-Hunting_Coalition
www.myspace.com/AnthonyMarr
www.youtube.com/AnthonyMarr
www.HomoSapiensSaveYourEarth.blogspot.com
www.myspace.com/Anti-Hunting_Coalition
www.ARConference.org