2010-06-24
Anthony Marr's CARE-7 tour blog #22
South Carolina and North Carolina
After an almost non-stop chain of speaking events over the last two weeks since Florida, thanks to GAHC co-VP Catherine Garneau's efficient organizing effort, I'm now enjoying a couple of relaxing days at my long time friend Jerry Cook's water-front property in Kill Devil Hills on the Outer Banks of North Carolina. As Jerry says next to his profile pic in Facebook, "Life is good in Jerry's world." The only thing is that the temperature is knocking on 100 degrees and humidity near 100 percent, so "Jerry's world" is mostly indoors this time of year. Not so my first visit here, which was in December 2003 during my CARE-1 tour which I shared with Brenda Davis and her then 15-year-old son Cory Davis. Life was good in Jerry's world both indoor and out that time of year.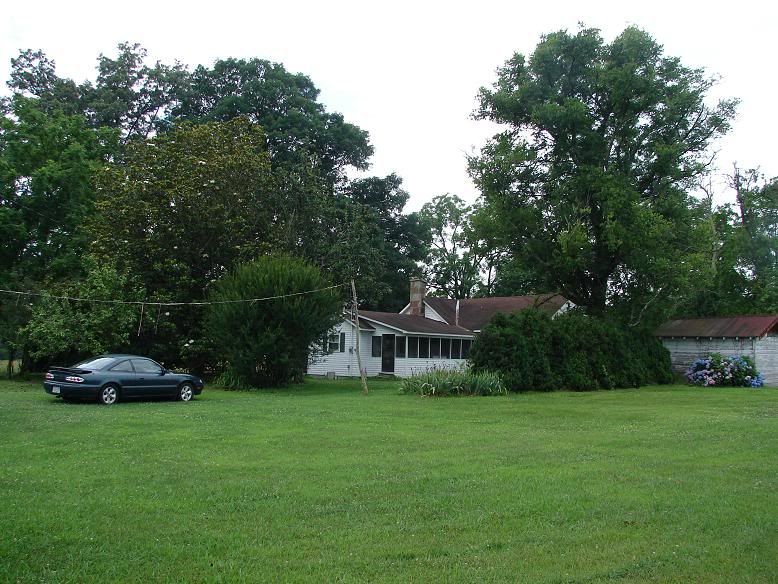 June 15 - Pisgah, Alabama - accommodation host Carol Fuller Edmonds
After spending a night alone in the deserted farm house of the Edmonds family, I went over to the very much lived-in country home of Carol Fuller Edmonds, where the neighbors are few and far between, complete with the usual complement of cats and dogs typical of the homes of my animal advocacy hosts across the land.
On the country road in front of her property are wooden telephone-posts, to which are attached nesting boxes built by her aged father now in his 80s. They were built for blue birds, whose habitat had been decimated. She opened the side of one of the boxes, and lo and behold, there were 5 newly hatched chicks whose eyes were not yet open. She said that after her father has passed on, a younger generation will have to take over the task, or the blue birds in that area would disappear.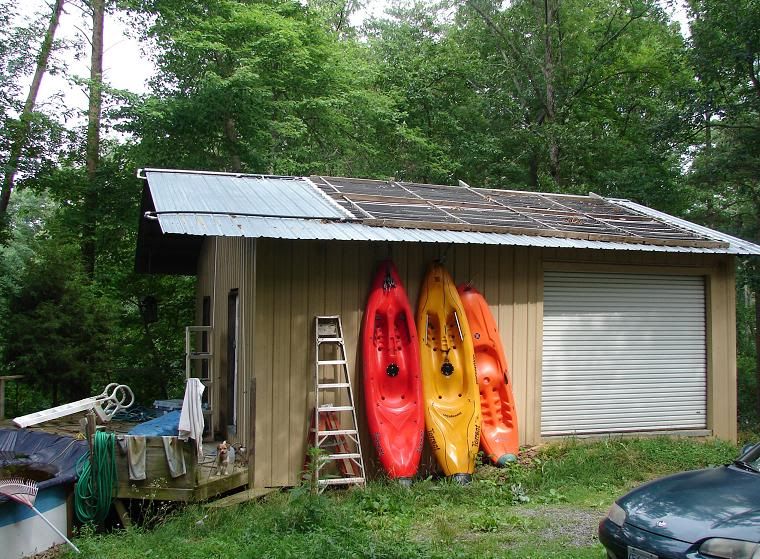 Carol's home itself is also very eco-friendly, with solar heating systems on the roofs, and a large composting machine. On the above-ground swimming pool was a sheet of plastic that had collected puddles of rain water, in which lived a small population of tadpoles. she said that when they reopen the pool, she would collect the tadpoles first and have them deposited into a nearby pond. She is a veritable Earth goddess.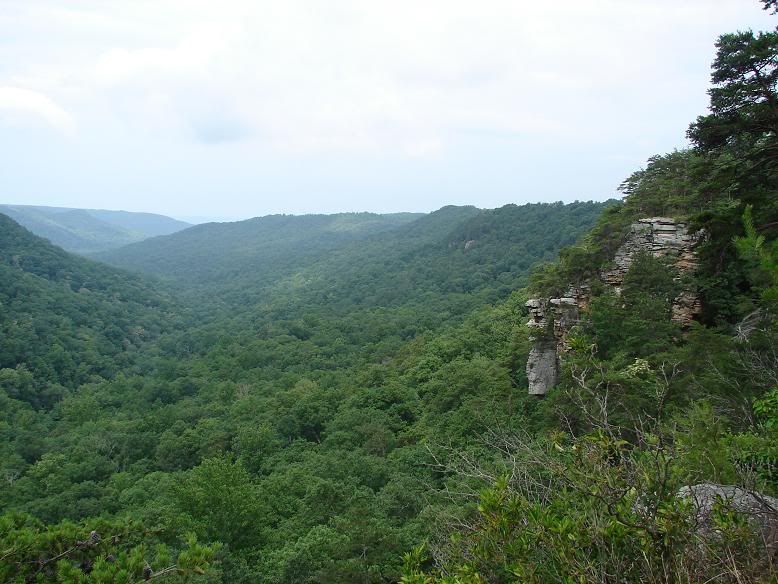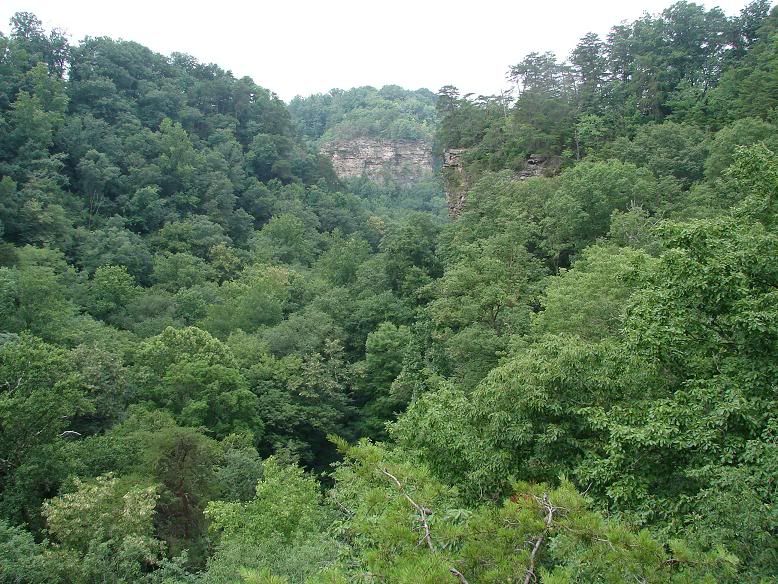 After treating me to a wholesome breakfast, Carol took me for a walk to her secret paradise. While Pisgah itself is green and pleasing to the eye, this paradise of hers is stunning, with a lush forest cover, a deep gorge, exposed rock-faces and a sheer waterfall. She said that it was a little known spot, and she intended to keep it that way.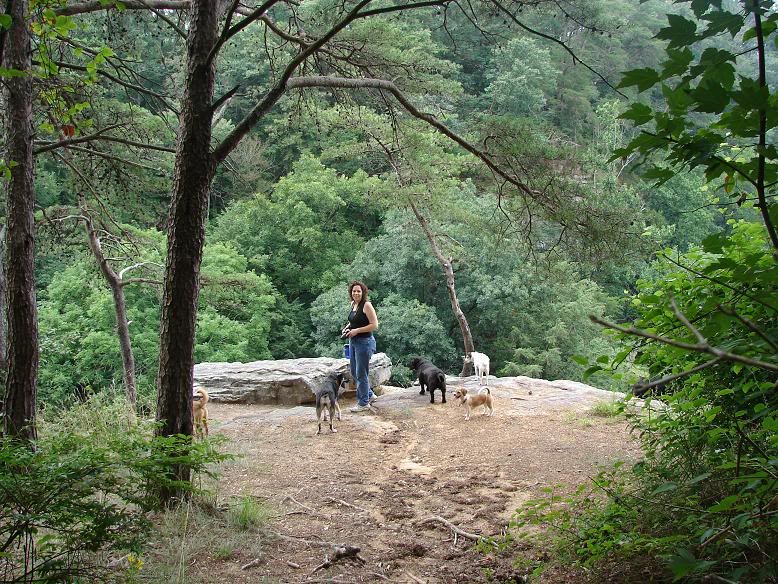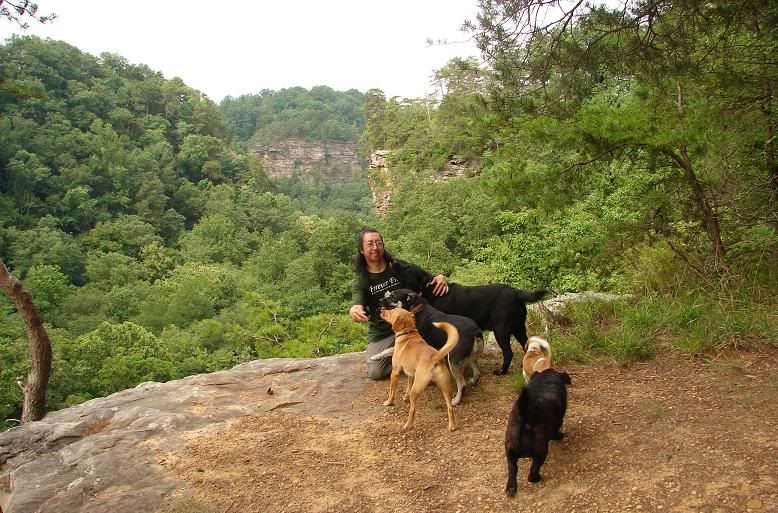 June 16 - Chattanooga, Tennessee, event host Carol Fuller Edmonds
In the afternoon, we drove the hour due east in our separate cars to Chattanooga, where, in the mezzanine floor of a veg-friendly supermarket, I gave my talk to a small gathering of local activists, including Kathryn Dalenburg. After my speech, Carol said that it "blew her away".
After the talk, by then after 9 p.m., I drove 5 hours farther east to Asheville, North Carolina, arriving around 2 a.m. at the home of Anne and John Green up in the mountains in the middle of nowhere. They said that they would leave the door open for me, but John waited up for me and opened the door, saying, "I was just about to give up on you man," followed by a brotherly bear hug.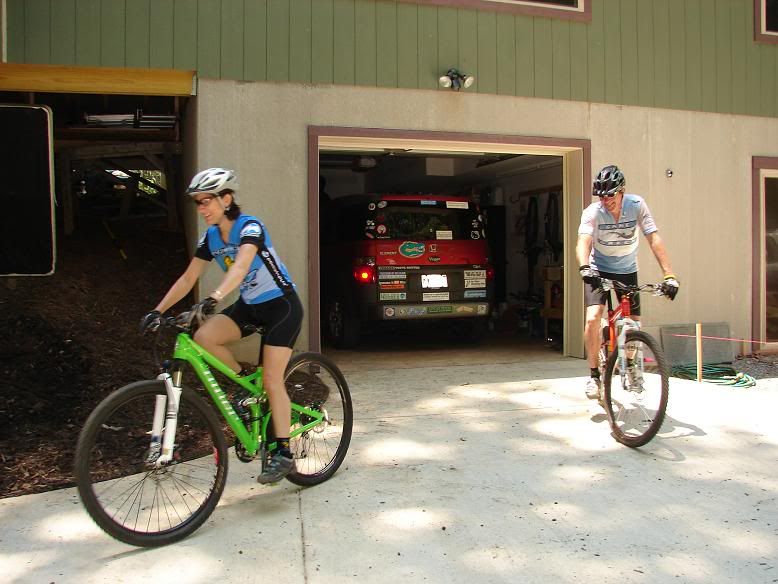 June 17 - Asheville, North Carolina - accommodation hosts Anne and John Green
The Greens are yet another couple with whom I established an easy and in fact somewhat over-easy rapport, meaning that within minutes, John and I, both with about the same kind of humor, "who bring out the worst in each other", had begun trading good-natured barbs which kept Anne smiling and giggling all day long. John used to race cars, so we talked about Indy cars and Formula One. Just one year my junior, yet athletic and fit, he led me on long walks through the trails of their 36 acre forested property.
Both he and Anne are avid mountain-bike riders, on the walls of whose garage are easily ten high tech bikes, all with sophisticated suspension systems and disc brakes, each better than the others in some subtle way only bike freaks could discern and appreciate, just the light alloy frames of which are worth upwards of $1500 a piece. Of course, their house too is populated with animals, in this case 2 dogs and 4 cats.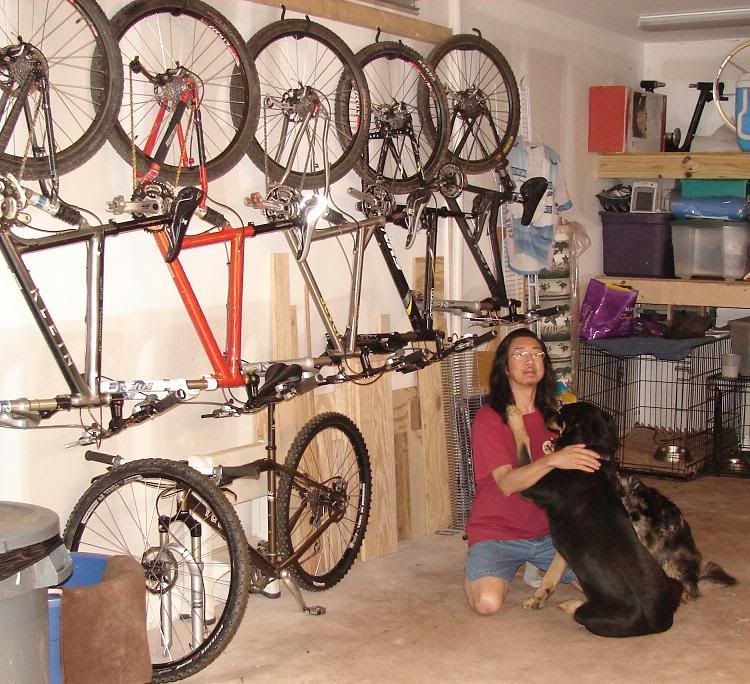 June 18 - Firestorm Cafe, Asheville, North Carolina - event host Wendy Kobylarz
In the late afternoon, we went by Anne's bumper-stickers-festooned SUV to the Firestorm Cafe in downtown Asheville, in a back room of which I gave my talk organized by my long time friend Wendy Kobylarz who used to live in Knoxville, Tennessee. Asheville is a small city, but the attendance was high per capita, with more people than chairs. Unfortunately, the time frame was a little too short, which obligated me to compress my talk to little more than an hour, when its usual duration is close to 2 hours. As a result of my talk, they began seriously discussing the ways and means of self-sufficiency in terms of food, water, energy and defense.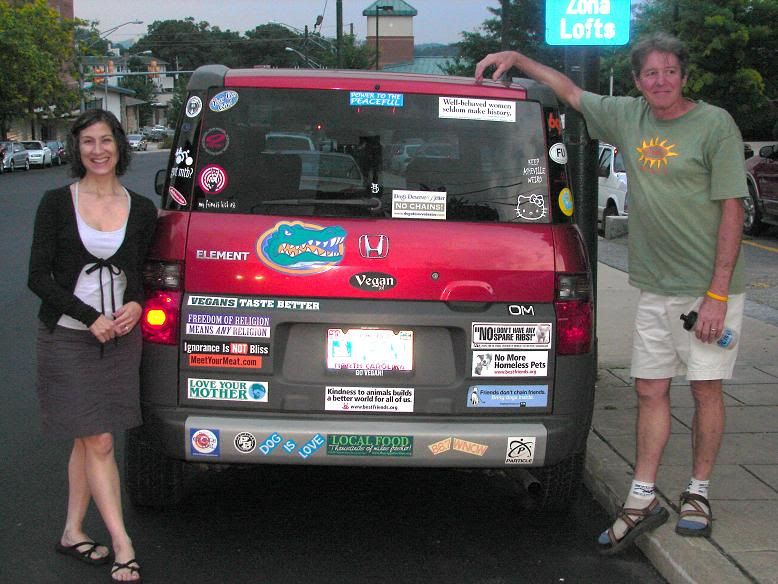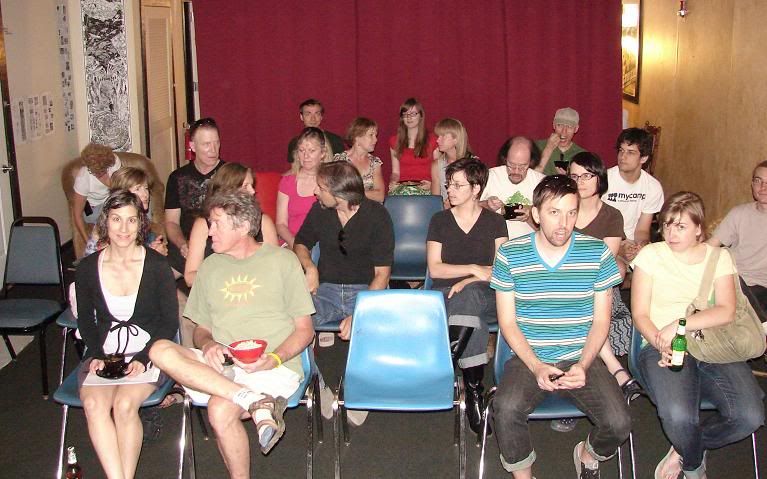 Around this time, the news of a possible 20-miles-wide methane gas bubble under the sea floor of the Gulf of Mexico came to the fore. Speculations abounded about the possibility of a volcano-like eruption comparable in magnitude to Mt. St. Helens which could generate a tsunami that could swamp the entire gulf coast from Texas to Louisiana to Mississippi to Alabama to, worst of all, Florida where the tidal wave could sweep overland right across the peninsular from the west coast to the east coast into the Atlantic. Debates on the internet ranged from bashing it as a hoax to touting it as being probable. Most agreed that should such an event occur, it could kill millions inhibiting the region. One thing for sure. ROV undersea videos have shown that the oil is not only gushing from the broken well-head of the Deepwater Horizon, but squirting out from rock fissures on the sea floor in the surrounding area, some as much as 7 miles distant. Explanations had it that not only was the well head broken, but there are breaks "down hole", so that, under the 50,000-100,000 PSI pressure from 4 miles deep, the oil is squeezed through the lower breaks into the surrounding rock strata eventually into the water through cracks in the sea floor. What a bloody mess, and one almost without a solution. If this disaster does not deal the almost omnipotent oil lobby a staggering blow, nothing else will.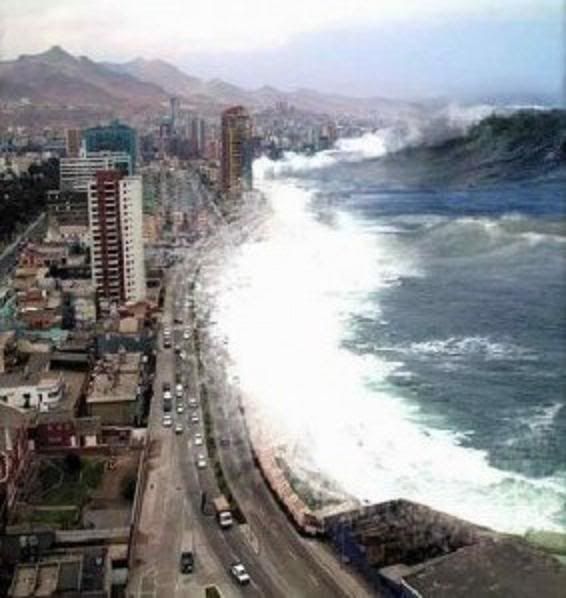 June 20 - Earth Fare, Greenville, South Carolina - event host Joe Walsh, accommodation hosts Greg and Diane Prescott
The potluck talk in a quiet room at Earth Fare in Greenville was attended by about ten local residents and activists, and it was a relaxed and informal affair. Unfortunately, my camera had run out of batteries, so their beautiful faces could only be remembered. After the talk, my hospitality hosts Greg and Diane led me to their well treed country home twinkling with fireflies and frequented by chickadees and cardinals. When I left the following morning to the Outer Banks, Diane made me a well balanced lunch package to take away, bless her heart.
June 21-24 - Men's Club, Kill Devil Hill, Outer Banks, North Carolina - event and accommodation host - Jerry Cook
I met Jerry Cook in my first Compassion for Animals Road Expedition (CARE-1, whereas my current one is CARE-7) shared with vegan dietitian and best-selling author Brenda Davis (Becoming Vegetarian, Becoming Vegan, Dairy-free and Delicious, and Defeating Diabetes) and her then 15 year-old son Cory Davis, which covered 44 states in the 7.5 months spanning September 2003 and April 2004. When Brenda and Cory went back home in Kelowna, British Columbia, Canada, for a month-long break in December 2003 - January 2004, I stayed at Jerry's place the whole time. There, I met Jerry's friend Laura Hendrix and her wonderful 4-year-old daughter Sarah, with whom I had a terrific time, especially on Dec. 17, 2003, when they took me to the 100th anniversary of the first flight of the Wright Flyer by the brothers Orville and Wilbur Wright.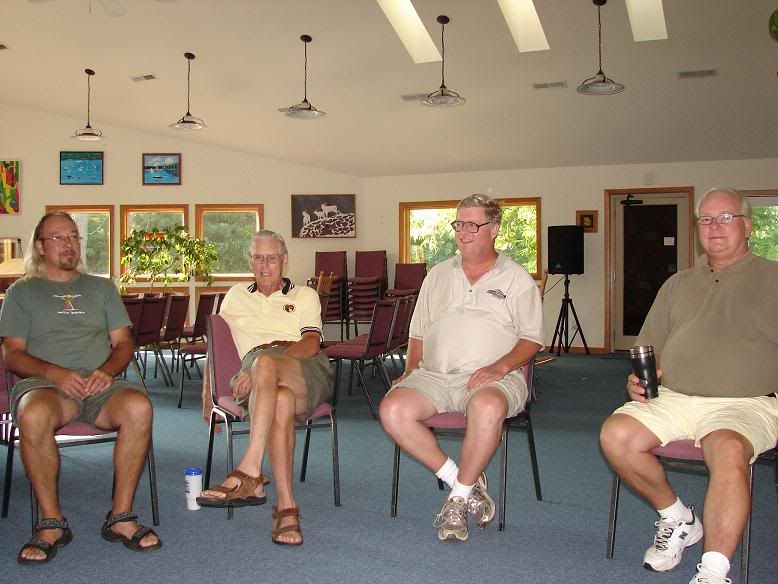 Yesterday, Jerry drove me to the local Unitarian-Universalist church to give a talk to the Men's Club to which he belonged, in which another long time acquaintance of mine Chip Belew also attended, at the end of which we had a vigorous discussion on solutions to deal with the soon-to-be-detonated Methane Time Bomb.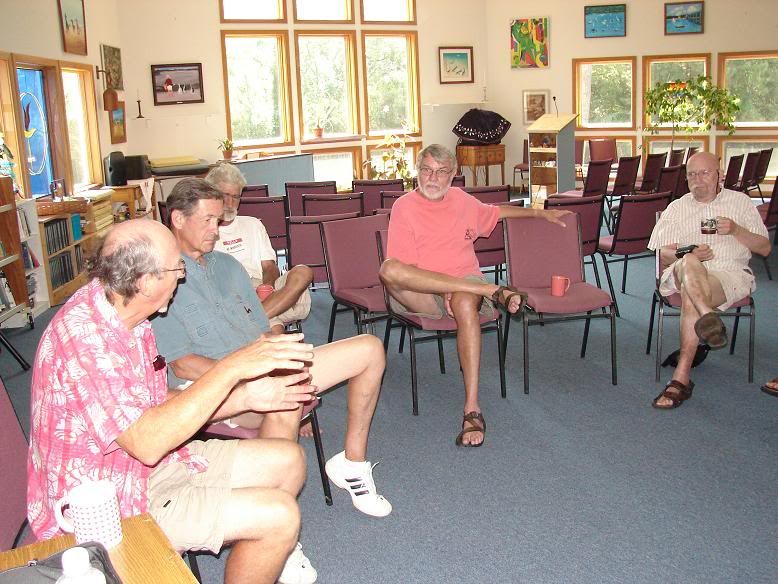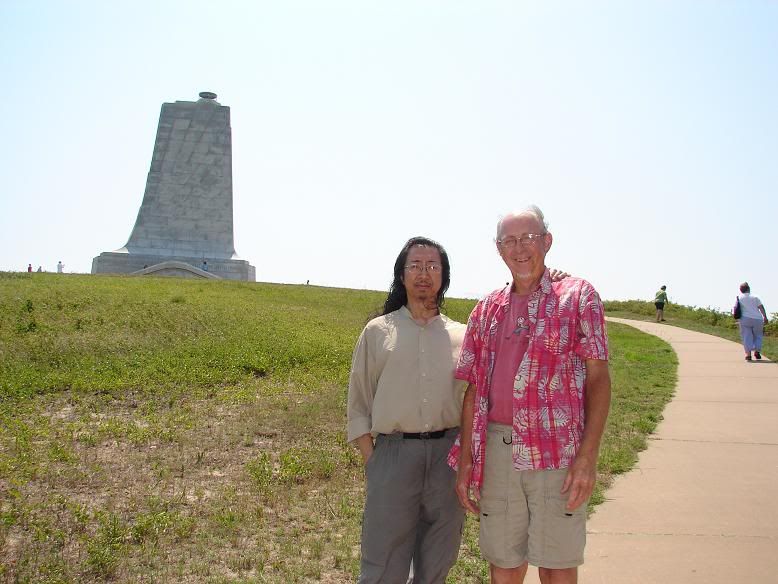 On our way back to his house, I asked Jerry to make a stop at the Wright Brothers Monument for a revisit, and it was just as grand. I stood by the base of the monument and Jerry took a picture of me. Unbeknown to me at the time, the engraving right behind me said "DAUNTLESS RESOLUTION". Amen.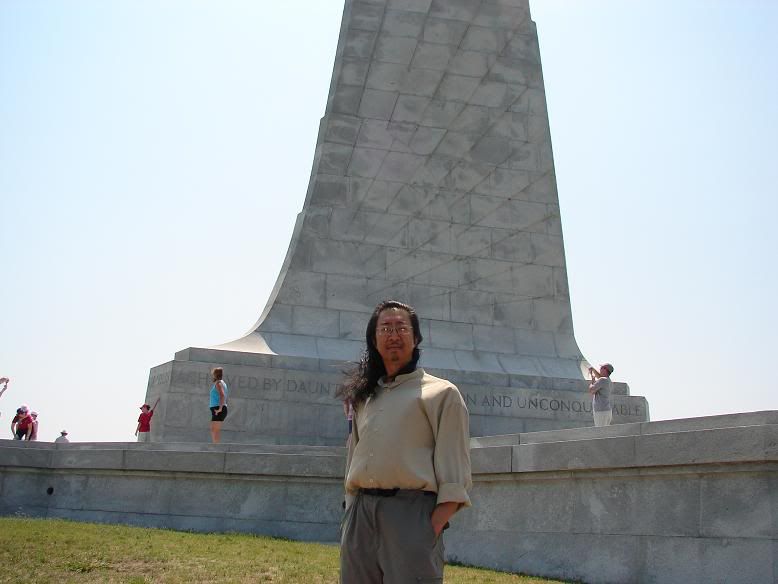 The slope where the Wright Brothers tested their glider
Anthony Marr, Founder and President
Heal Our Planet Earth (HOPE)
Global Anti-Hunting Coalition (GAHC)
Anthony-Marr@HOPE-CARE.org
www.HOPE-CARE.org
www.MySpace.com/AnthonyMarr
www.YouTube.com/AnthonyMarr
www.myspace.com/Anti-Hunting_Coalition
www.facebook.com/Anthony.Marr.001
www.facebook.com/Global_Anti-Hunting_Coalition
www.HomoSapiensSaveYourEarth.blogspot.com
www.facebook.com (search for "Anthony Marr Heal Our Planet Earth")
www.ARConference.org