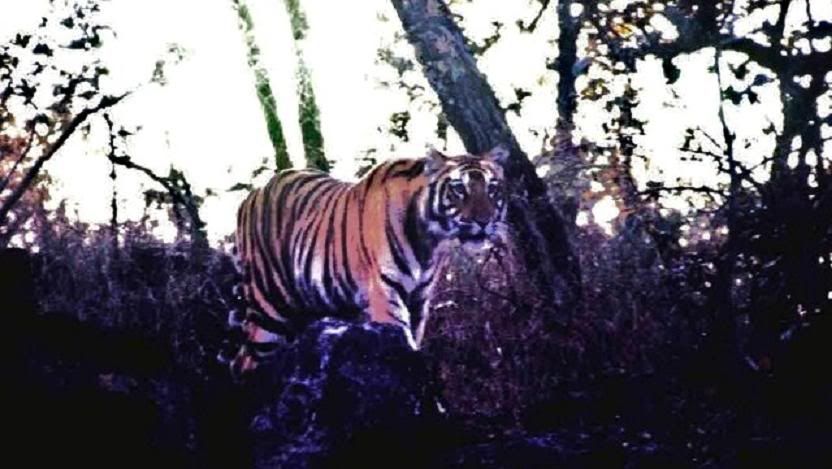 The tigress Sita in Bandhavgarh National Park, Madhya Pradesh, India (1998) - photo by Anthony Marr
Following is a blog written by Carole Baskin, CEO of Big Cat Rescue in Tampa, Florida
http://socialcomputingtechnology.com/?p=40515
http://dogscatsbirdspets.com/catcareblog/uncategorized/big-cat-news-anthony-marr-visits-big-cat-rescue-of-care-7-tour
http://bigcatnews.blogspot.com/
Anthony Marr Visits Big Cat Rescue of CARE 7 Tour
Anthony Marr Met With Interns, Staff & Volunteers to Talk Tigers and Global Warming tonight at the Lion's Lair Party Pavilion.
World renowned as the Champion of the Bengal Tiger, Anthony is on his 7th CARE tour. While in FL he wanted to be sure to visit Big Cat Rescue again and was gracious enough to let Chris film him on a wide range of topics including Tony the truck stop tiger, the plight of back yard tigers in America, poaching, tiger farming, canned hunts, lion meat on the menu, white tigers, the decline of lion populations, wild leopards and global warming. In the course of his film blitz through the sanctuary I asked if he would join us for pizza tonight and he rearranged his schedule to accommodate us. Due to the late nature of the event, we were only able to invite those who were working this afternoon, and I even missed a couple of people by just a few moments who had been working hard all day but had already gone home. Tonight was a rare treat for those left standing at the end of a long day.
For three hours Big Cat Rescuers got to hear about his adventures in India and get a first hand view of the magnificence and intelligence of cats living wild as well as all of the challenges they face because of the value of their skin, bones and organs. He shared stories of intrigue and suspense as poachers were stalked, captured and often right back on the street within hours. He brought the suffering of these cats to life in painting the struggle for survival that is shared by the big cats and the humans with whom they share dwindling resources. He separated the good from the bad and the corrupt from the dedicated in his captivating portraits of the politicians, law enforcement officials and conservation NGOs.
Anthony ended the night's discussion with the topic that is the fuel behind his cross country trek: global warming. Despite being a physicist he plainly set out in laymen's terms how it is that we are on the brink of disaster while the man on the street is still saying, "What global warming?" If you missed it tonight, you missed the simple analogy to a pot full of water and ice cubes, but you can be the interns who were there can explain it to you now. Or, you can read about it in Anthony Marr's latest books "Omni-Science and the Human Destiny" and "Homo Sapiens! SAVE YOUR EARTH". The most critical message that he brought to our awareness is that scientist now agree that the models they had currently predicted which gave Earthlings until 2040 to begin reversing the negative spiral we are on because of methane produced via the mass production of animals as food and our failure to implement green energy has now been shorted to the year 2013. To see the NASA report bearing this out visit:
http://news.bbc.co.uk/2/hi/7139797.stm
To learn more about Anthony Marr and to help sponsor him on this CARE 7 tour visit:
http://www.youtube.com/AnthonyMarr
http://www.homosapienssaveyourearth.blogspot.com/
http://www.myspace.com/AnthonyMarr
Anthony Marr bio:
Anthony Marr has a physics degree and is the author of "OMNI-SCIENCE and the Human Destiny" (2003) and "Homo Sapiens! SAVE YOUR EARTH!" (2008). A full-time wildlife preservationist since 1995 and founder of the Global Anti-Hunting Coalition (GAHC), he has been to India 3X for the tiger and Japan twice for the whales & dolphins. He founded Heal Our Planet Earth (HOPE) in 1999 and leads HOPE's Global Emergency Operation (GEO) on mass extinction due to global warming. A key speaker at the AR Conference since 2004, he is currently on his 7th Compassion for Animals Road Expedition covering 40 states in 7 months.
For the cats,
Carole Baskin, CEO of Big Cat Rescue
an Educational Sanctuary home
to more than 100 big cats
12802 Easy Street Tampa, FL 33625
813.493.4564 fax 885.4457
Carole.Baskin@BigCatRescue.org
http://www.BigCatRescue.org
Caring for cats - Ending the trade
Join more than 14,000 Big Cat Rescue fans http://www.facebook.com/pages/Big-Cat-Rescue-Tampa-FL/122174836956?ref=ts
Twitter: Follow Me and get a free wild cat screen saver or ecard account @BigCatRescue
Posted by BigCatRescue at 9:12 PM