2010-09-02 - Anthony Marr's CARE-7 tour blog #27 - NH & NY
Anthony Marr's CARE-7 tour blog #27
New Hampshire & New York
The last 10 days saw four successful events, one in New Hampshire and three in New York, and tomorrow, we have lined up an interview with a potential future U.S. president - slated for CARE-7 tour blog #28, not to be missed!
First, the August 23 event at Concord, New Hampshire. At the tail end of my flu attack, I made good my promise to Linda Dionne of New Hampshire Animal Rights, who organized the event, and drove the 7 hours from Steve B's place in New Jersey for my 6 pm presentation.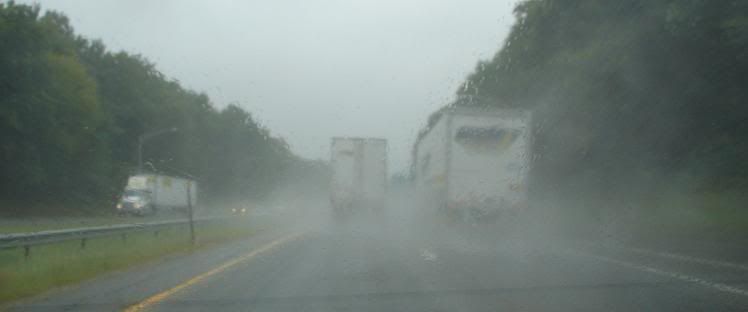 Although Concord was a small city, over a dozen people showed up, including Courtney Barron, who happened to be a mutual friend of the two you-know-whos.
(Courtney Barron on left)
After the event, Courtney wrote in my Facebook profile page: "It was so great meeting you yesterday Anthony! I truly enjoyed your lecture last night and it left me with a lot to think about!!! Travel safe:-)"
August 24 at 10:28am
Anthony Marr: "Hey Courtney! I was just thinking about dropping you a line to establish contact in FB. Thanks for writing so soon. Say hi to your mom."
August 24 at 5:05pm
Courtney Barron Ⓥ ":-) Beat ya to it.. Ha. I will definitely tell my mom you said hello! I just read your recent blog on Giordano Bruno. Good stuff... sorry you had to suffer in order to write it though! Hope your travels are going well:-)"
August 24 at 10:06pm
Anthony Marr: "The suffering was worth it, to get that vision. Traveling is going well, several talks in NY lined up before month end, then on to PA and OH. And how are you?"
August 26 at 10:09am
Courtney Barron Ⓥ: "Glad to hear you are moving along on your tour just fine! I'm doing well thanks for asking:-) NH isn't all that exciting, but I can't really complain. How are you doing? I can imagine you are tired from the constant traveling! I'm looking forward to your next blog:-)
August 26 at 9:35pm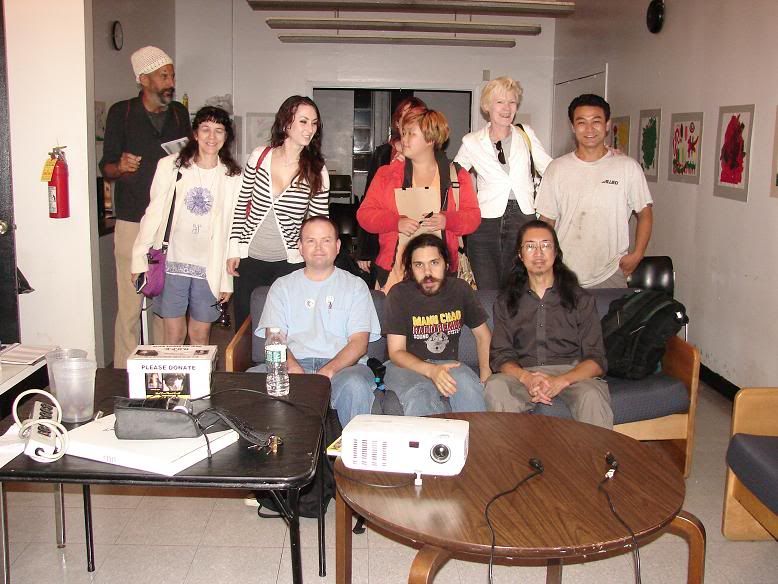 (Some of the key people in the Manhattan event: Tia Foster, top row, third from left; Adam Weissman, bottom row, second from left; Anthony Marr, bottom row, third from left)
The first of the New York events was on August 25, Wednesday, at the Community Church on 28 East 35th St. in Manhattan, co-hosted by 5 groups, including:
Wetlands Activism Collective
Win Animal Rights
Green Sanctuary Committee, Community Church of NY
Neighborhood Energy Network
Tristate Food Not Lawns
Following is the write-up by Adam Weissman, of Wetlands Activism Collective
Anthony Marr on Climate Change, Hunting, Tar Sands, and Seal Slaughter
Time: August 25 · 6:30am - 9:30pm
Location: Community Church of New York, front lounge
28 East 35th Street between Park and Madison Avenues in Manhattan, New York, NY
Homo Sapiens: SAVE YOUR EARTH!
Stop the methane time bomb:
fight mass extinction from Runaway global heating!
...Stop the global slaughter of wildlife!
Resist Tar Sands Oil Extraction :
the most environmentally destructive project on the planet!
About Anthony Marr
Anthony Marr is the founder of Heal Our Planet Earth (www.hope-care.org),
the Global Emergency Operation, and the Global Anti-Hunting Coalition.
He is the 2010 Animal Rights Conference recipient of the Henry Spira Grassroots Animal Activist Award.
Anthony is the the primary author of the book [Homo Sapiens! SAVE YOUR EARTH!]
His blogsite is:
http://homosapienssaveyourearth.blogspot.com/
Anthony holds a science degree from the UBC and has worked as a field geophysicist and an environmental technologist. In 1995, he became a full time wildlife preservationist, which has brought him to India three times, earning him the title of the "Champion of the Bengal Tiger" in the Champions of the Wild TV series aired in 20 countries. As an anti-hunting activist, he has conducted high profile campaigns in Canada for the bears and seals, and been to Japan twice for the whales and dolphins. He is is currently on his 7th Compassion for Animals Road Expedition (CARE-7 which will span 40 states over 7 months.. He is also the author of Omni-Science and the Human Destiny.
Anti-Trophy-Hunting
In 1996, Anthony Marr, then a campaign director of Western Canada Wilderness Committee, led a province-wide referendum campaign towards banning bear hunting in BC. He personally performed a 12,000 km, 8-week, 50-city road tour to build a volunteer force which grew to 1,800-strong. Anthony was dogged and harassed by large groups of hunters from city to city (120 in Prince George), but generate some 150 newspaper articles, which said, "... the highest profile Canadian animal rights campaign of 1996... led by Anthony Marr with extraordinary intensity, barn-storming the province... stirring up emotions single-handedly from Vancouver to Fort Saint John."
Protecting Whales and Dolphins
Anthony Marr played an active part in combating Makah whaling in Washington state. He also went to Japan twice to investigate whaling and the whale meat trade and conduct anti-whaling missions. Through the action he has taken a large collection of highly revealing photos of the various aspect of the whaling industry which he made into a PowerPoint presentation titled Know Thy Enemy. While in Japan, Anthony also investigated the dolphin capture-slaughter industry at Taiji and Futo, as well as conducted experimental dolphin-saving operations, photos of which being also included in Know Thy Enemy
Opposing the Canadian Seal Massacre
Anthony has been active in the anti-seal-massacre movement since the mid 1990s, and is one of the leaders of the global anti-sealing movement. He has organized, led and participated in many high profile anti-sealing media events, including the Funeral Motorcade for the Seals. He has also performed a 100-km Funeral March for the Seals from Mission to Vancouver and Victoria.
Omniscientific Cosmology
Integrative Transcendence - the Science of Peace When Anthony Marr was 33, he went camping solo in the Africa savannah, sleeping under the stars amidst lions. What he brought back to Canada three months later was a new philosophical system known as the Omniscientific Cosmology, hailed as "original", "beautiful", "fascinating", "formidable", "immensely logical" and "ground-breaking."
Undercover Operations
Anthony Marr has performed undercover operations in the Chinatowns of Vancouver, Victoria, Toronto, Ottawa, New York and San Francisco, as well as in the convoluted enclaves of New Delhi and Calcutta, as well as the dolphin-killing village of Taiji and the whaling port of Shimonoseki, Japan. After the investigations, he led media into the enclaves in question, which usually became high profile newspaper articles and TV broadcasts. This highly popular media coverage forced the federal government to pass and enact the WAPPRITTA wildlife protection laws within months.
Deep-Rural-India Expeditions
Anthony Marr has led three deep-rural expeditions in India, to work inside the tiger reserves and with the villagers who live in the buffer zones surrounding the core areas. One of the strategies is to slow, halt and reverse deforestation by introduction of solar cooking and biogas technology to supplant wood-burning.
Following are some feedback from those who attended, and those who could not attend:
Norbu Ⓥ Sangbo: "I finished work 830 too, made it at 9, was glad to learn about the deer hunting in the usa and i was happy it went till 9:45."
August 25 at 10:52pm
Andrea McElroy: "I am so sorry I missed tonight. Worked until 8:30. Hated to miss you, Anthony!"
August 25 at 9:13pm
Norbu Ⓥ Sangbo: "Is this in progress. Is it 630am or pm. Really early for an event."
August 25 at 9:51am
Jennifer Moore: "I'm not local. If you make it to DC, I can try and make it."
August 24 at 9:12pm
Danielle Agrr: "Would love to go, but one of my closest friends is sick, I need to be there for her and can't leave Staten Island tomorrow. Hope it goes well!"
August 24 at 4:20am
Norbu Ⓥ Sangbo: "Will attend as soon as I finish work."
August 23 at 6:13pm
Katherine Zavartkay" "Not sure if i will be able to attend (prior commitment) however i shall share this."
August 23 at 4:33pm
Kylise Howell: "Would love to attend, but it's not possible. Thanks for the invitation. Good luck!"
August 23 at 8:40am
Mara Piazzolla: "Troppo lontano!!!!"
August 22 at 8:48pm
Diane Meyer: "Simon Great event but I will not be in the city and I wish you great success with these critical topics. Thank you Adam."
August 22 at 2:50pm
Energiayreciclaje Reciclaje: "Gracias por la invitación, los invito a que conozcan el nuevo blog de E&R http://energiayreciclaje1.blogspot.com/ y el canal." http://www.youtube.com/user/energiayreciclaje1
August 22 at 12:40pm
Ronda Dietzler: "If i was there i would be there for sure!!good luck!"
August 22 at 1:35am
Vasu Murti: "Can't attend; I'm on the West Coast."
August 22 at 12:40am
Leeona Klippstein: "In spirit."
August 22 at 12:31am
Karin Yates: "Would attend if I were in NY."
August 21 at 9:33pm
I appreciate the obvious sincerity of those who could not attend. Still a fairly sizable group of about 20 people showed up, and due to their unwavering attention, my lecture went from 7:00 pm to 9:45 pm, with nary a person leaving prior to its proper conclusion, by which time I had covered both runaway global heating and hunting in reasonable detail.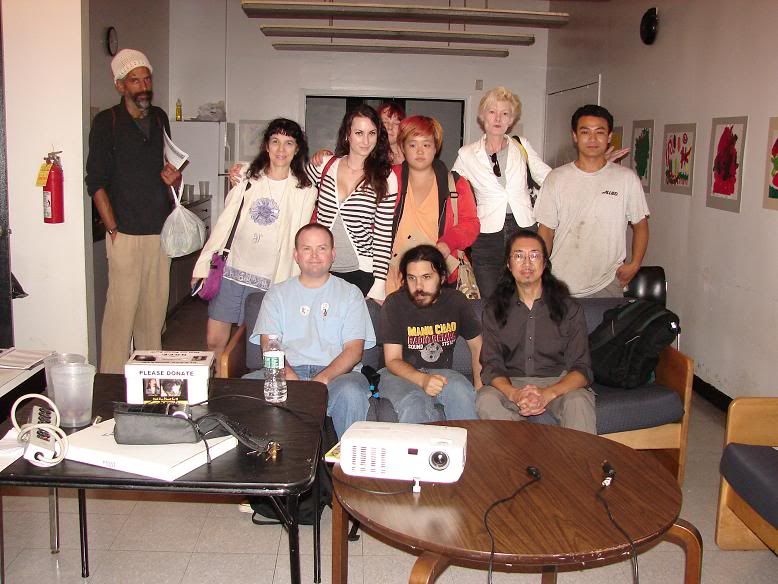 The following day, Tia Foster, one of the people present, wrote the following in her Facebook page, which garnered a good number of comments:
Tia Foster Ⓥ: "I went to hear Anthony Marr speak tonight and I was absolutely blown away. The information he provided astounded me. All you hear about hunting is a lie. The conspiracy surrounding hunting is bizarre and twisted. Don't believe the overpopulation myth. Guess who is causing the overpopulation? THE HUNTERS THEMSELVES. I'm... tired, I will leave you all in suspense until tomorrow to explain."
August 26 at 4:28am · Feedback (22)
You, Malang Ⓥ Por, Josh Goldstein and 4 others like this.
Tia Foster Ⓥ: "P.S. I posted all the meet ups I am attending below. If you are a NYCer please make it to at least one of these. We are talking the fur trade and creeps sacrificing chickens in the name of God. These are issues we can't let go. The animals need us, so let's do our best to come through for them. Goodnight my loves ;)"
August 26 at 4:35am o
Michael Estes: "I'm curious about the hunters, will check tomorrow!"
August 26 at 4:38am
Josh Goldstein: "Doing what I can on the left coast. Maybe I'll find myself back there again. Fight the good fight. But get some sleep first; it's early over there! Looking forward to the rest of it. xo"
August 26 at 4:40am
Tia Foster Ⓥ: "Ok now I will try and explain. However, I am not Anthony Marr so I am just doing my best to relay the info. But if you have more questions, friend him on his FB and ask him questions. He is a really nice guy. / Most people have no idea that their state wildlife management agencies are trying to keep deer populations high when so many residents complain that there are too many deer, but the agencies have financial incentives for pleasing hunters. The agencies depend on sales of hunting licenses for their funding, and hunters like a high deer population. There are many people killed each year from hitting deer with their cars. We can blame the hunters and the wildlife management groups who are hunters themselves for this! They create unnatural habitats that are deer preferred. These "food plots" are horrible. They destroy the natural forest, cut down trees, to create this deer preferred habitat which is an open space with food and plants preferable for deer to eat. When you unnaturally increase their food intake, their reproductive rate is maximized which creates MANY more deer. When their food supply is scarce, the female deer will survive but will either produce only one fawn or none at all. When it becomes manipulated, they will produce triplets. In some states, it is illegal to kill female deer. Deer are NOT monogamous. So, if you kill the bucks and not the does, you are in NO way controlling the population. Most people want the buck and not the doe. It is how hunters work. They want the biggest buck they can get. So, a single buck can go around and impregnate MANY doe. So, these evil hunters ARE A BUNCH OF WORTHLESS, LYING KILLERS!! They don't just kill deer (which is bad enough), they cause human deaths. By increasing their population, you are causing car crashes. Statistics show areas without hunting have practically no deer related car crashes! To be part of these wildlife management boards, you HAVE TO BE A HUNTER! So, the government is pro hunting. They ARE hunters! Do not allow these monsters to lie to you anymore. There is only an overpopulation because they have created it. They are killers and dangerous ones. If you try and kick a hunter off of your land, watch out. They have passed "anti hunter harassment laws" so that these bastards can get away with whatever they want. Check out Anthony Marr's FB. There are links to his blogs and more information. See More
August 26 at 2:09pm
Michael Estes: "Wow Tia you stated that brilliantly. i noticed something that fits in with this on the Texas parks and wildlife group that i belong to here on fb. (because i enjoy going to local state parks). well...they were announcing that hunting licenses for deer season were going on sale AND..okay i just went to their site and here's an example " Love to hunt but hate the high costs? Our Annual Public Hunt Permit provides access to over 1 million acres of land for just $48. License sales support wildlife conservation." LICENSE SALES SUPPORT WILDLIFE CONSERVATION! i remember when i first said that i was like huuuuuh, my bullshit detector went off like crazy! then people were leaving comments like 'yeah! I've already been practicing on roosters and chicken running loose on my land!' listen i hate to say this but I'm starting to be FOR hunting accidents! people have the choose to kill deer which they don't need for food but want an animal's head over their desk or fireplace? well if they get shot while engaging in such cruelty, too bad too sad! maybe their survivors will give hunting up, even if the gov't won't stop it since there's mucho dinero involved!"
August 26 at 2:37pm
Josh Goldstein: "Oh, I'm totally pro-hunting accident. People won't give it up though. I was reading a story about the racing accident that took place recently in the desert here in Southern California which killed a few people. People who were there have no intention of giving up racing. It's their way of life. It's the "they would want us to keep doing it" thing. / And it's the same with these assholes. We can only hope for accidents to keep their numbers in check."
August 26 at 2:54pm
Michael Estes: "They're right 'they' would want them to keep doing it... perpetuating the stupidity is the human condition."
August 26 at 3:05pm
Anthony Marr: "@ Michael: Hunters have long called themselves "CONservationists", who "conserve" for the sake of hunting, which has forced out a new term to describe true conservationists, who preserve the habitat for the animals, and preserve the animals for their own sake - PREservationists."
August 26 at 5:59pm
Malang Ⓥ Por: "Ok, I have officially been brainfucked !! Thanks Tia and Anthony Marr. How they blind the public !!!"
August 27 at 1:08am
Josh Goldstein: "Now that I read my comment again, I don't know if it sounded like I was hoping for racing accidents. That's not the case. Just the hunting kind. :)"
August 27 at 1:14am
Michael Estes: "I wouldn't worry about it josh, hunting season probably hadn't started yet so they were polluting the desert with exhaust fumes instead."
August 27 at 1:17am
Tia Foster Ⓥ: "I know Malang, it's insane!!!! Spread the word, girl! XOXO"
August 27 at 1:52am
Malang Ⓥ Por: "Being Vegan and informed is not for the faint of heart, that is for sure."
August 27 at 1:55am
Josh Goldstein: "Amen to that."
August 27 at 1:56am
Al Streit, Pigeon People: "Anthony, thanks for your talk in New York. It was educational and motivating, and that's like saying nothing compared to how we all felt after listening to you."
August 27 at 5:48pm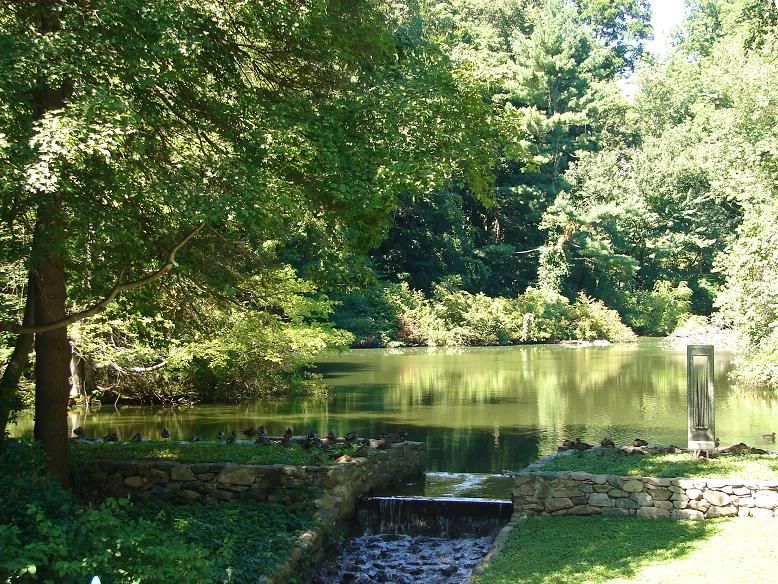 I stayed the intervening days at Natalie's, and, since there had been a few day's rain, her lake was overflowing, and the ducks and geese loved it!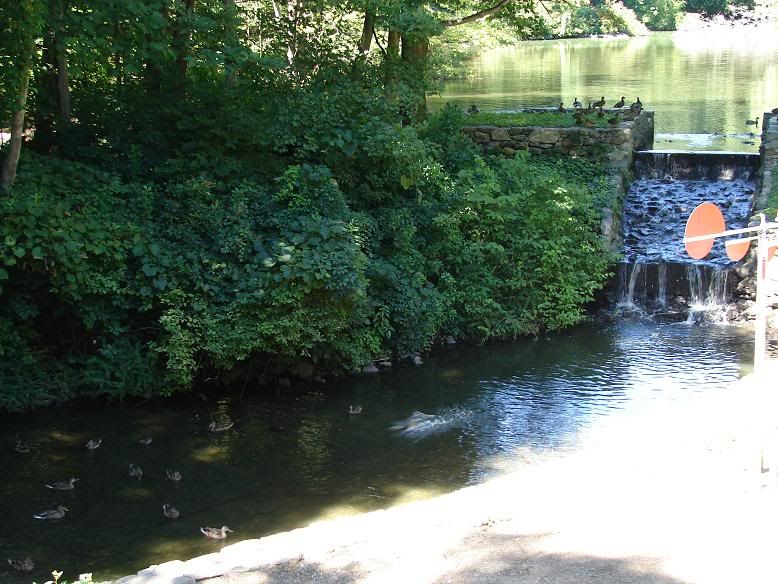 On August 28, Saturday, I drove to Troy, near Albany, and gave a talk at the X's & O's Vegan Bakery on 97 4th Street, owned and run by Sarah Preston and Linwood Bingham.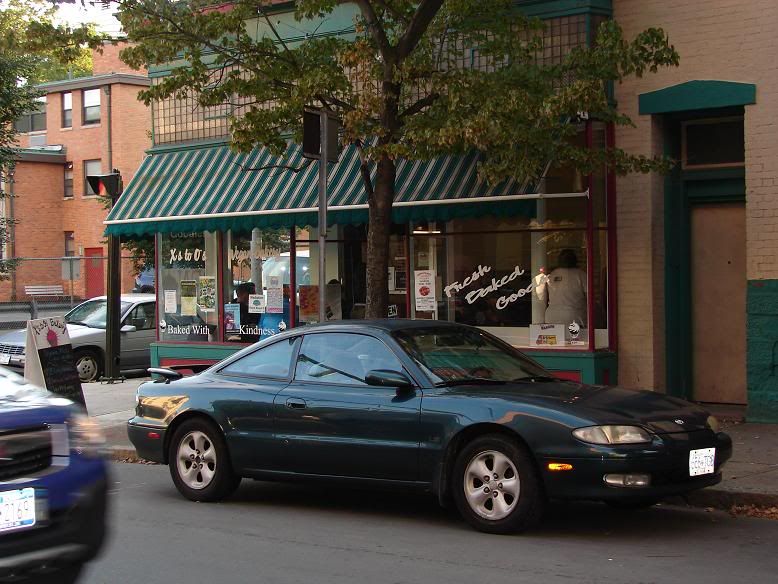 (Lin, Anthony & Jessica)
Jessica Ryle Ⓥ, host of the event, August 25 at 5:50pm
Hi everyone,
Just a quick reminder that our next vegan potluck at X's to O's Vegan Bakery (97 4th St, Troy) is this Saturday, August 28th. This is a free event, but a $5 donation to Anthony's travel expenses (or however much you can give) would be greatly appreciated.
We'll be debuting our new VegCap Vegan Dining Guide for New York's Capital Region and we'll have some ADKAR shirts for sale. We're also going to have a petition against the construction of the Oswego slaughterhouse there that you can sign. And don't forget to save room after dinner for some of X's to O's awesome goodies! (Or just take a bunch home with you!)
Please bring a vegan dish to share (no meat, eggs, dairy, honey, etc.) as well as your own drink and place setting.
World renowned Wildlife Preservationist, Anti-Hunting Activist, Environmentalist, Author and Speaker, Anthony Marr, who is currently on his 40-states-in-7-months C.A.R.E. "Compassion For Animals" speaking tour will be in Troy, NY on Saturday, August 28, to speak on Animal Rights; Wildlife Preservation; Environmental Issues and the urgent subject of his second book: "Homo Sapiens! SAVE YOUR EARTH".
Thanks and I hope to see you on Saturday!
Jessica Ryle
Adirondack Animal Rights
Glens Falls, NY
adkanimalrights[@gmail.com
www.adirondackanimalrights.org
http://www.facebook.com/#!/group.php?gid=260512472314&ref=ts
http://www.meetup.com/Upstate-NY-Animal-Rights-Meetup/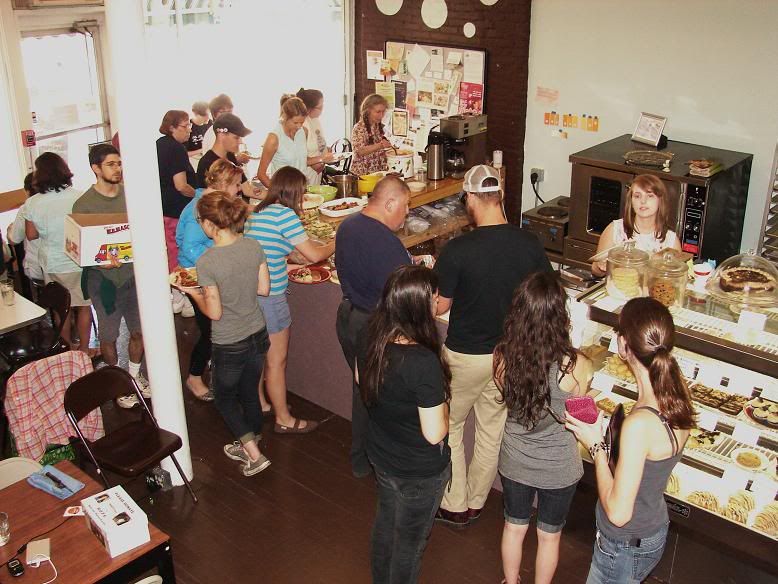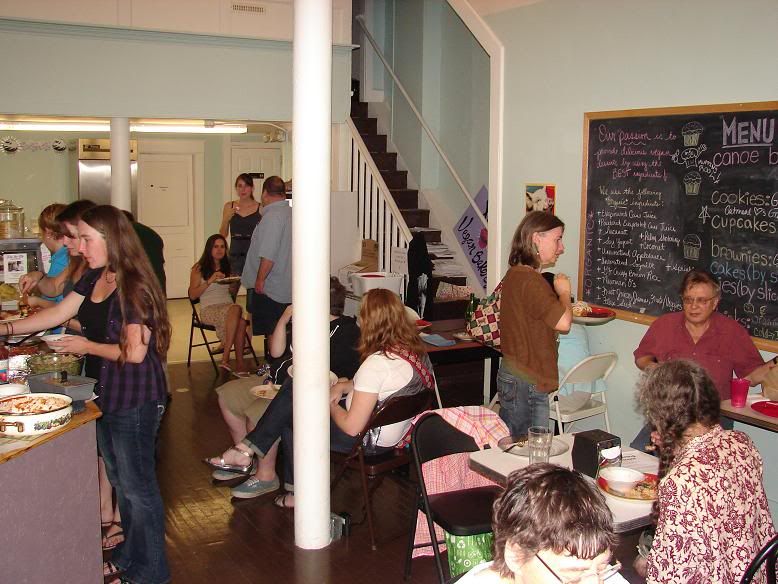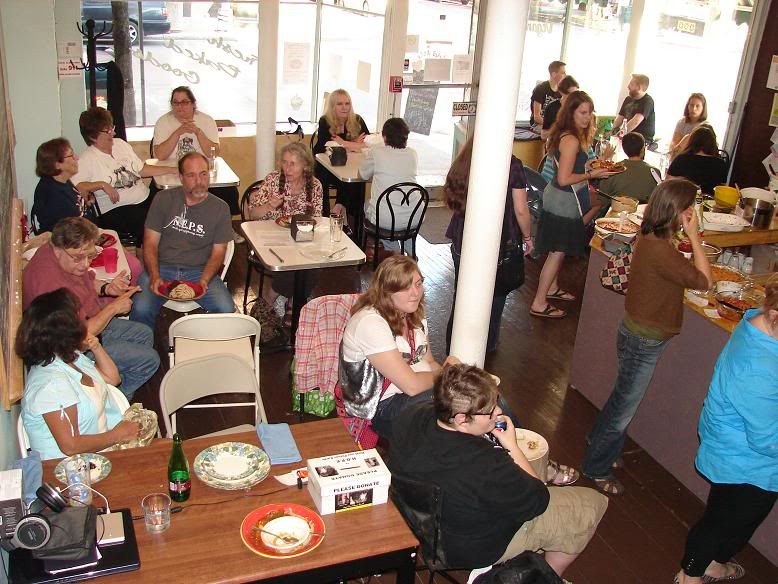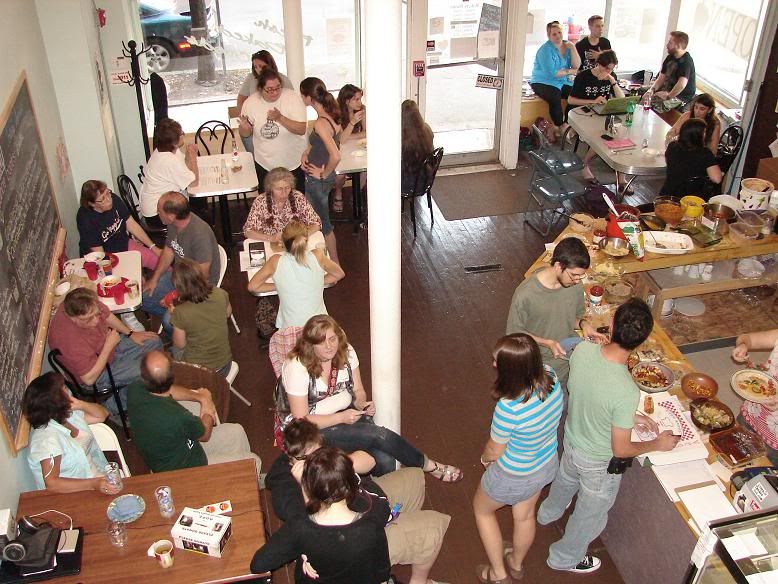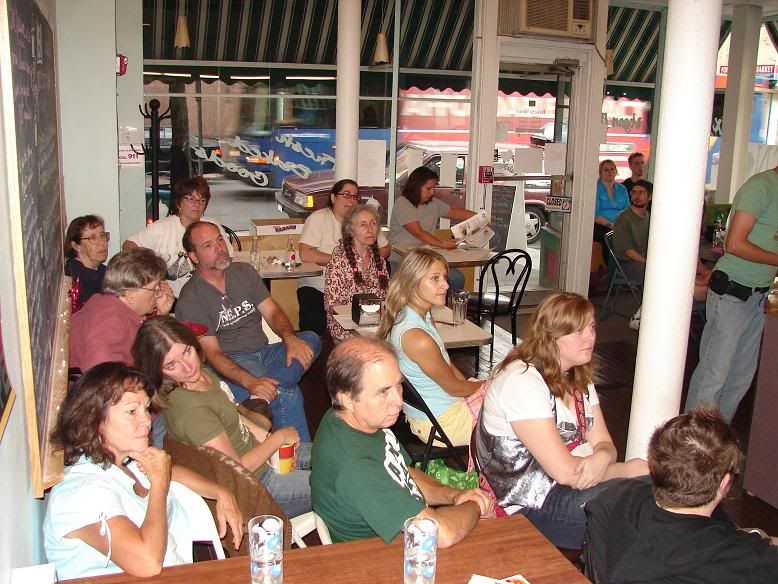 Following is a posting and a few comments in Jessica's Facebook page after the event:
Jessica Ryle Ⓥ: "I would like to thank everyone who came out for ADK-AR's vegan potluck last night, especially Anthony Marr for joining us and giving a truly eye-opening presentation. There were about 35 people there. Our biggest yet! See you all in a little while for Anti-Vivisection Demonstration at Albany Medical College."
August 29 at 10:40am . Feedback (9)
Andrea McElroy and 4 others like this.
Lenny Fletcher: "UGGHH I ALWAYS WORK SATURDAYS! HATE IT!"
August 29 at 10:41am
Dave Lajeunesse Ⓥ: "Great and sobering presentation. Safe travels Anthony."
August 29 at 11:19am
Anthony Marr: "My honor to be there and my pleasure to meet you all."
August 29 at 8:40pm
Jessie TheVegan Pemberton: "I felt terrible for leaving early but I had to! The amount of information Anthony provided was so amazing."
(Dr. Ted B., taking Anthony on a bird-watching walk)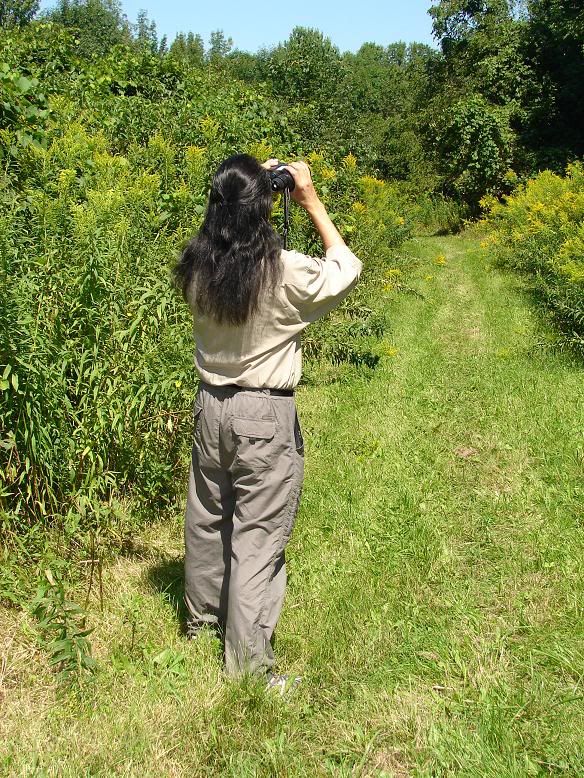 That very night, I drove 5 hours to my friends Ted and Carol B's place in Rush, near Rochester, where I had stayed at least twice in my previous tours, arrival around 3 a.m. They left the door unlocked for me.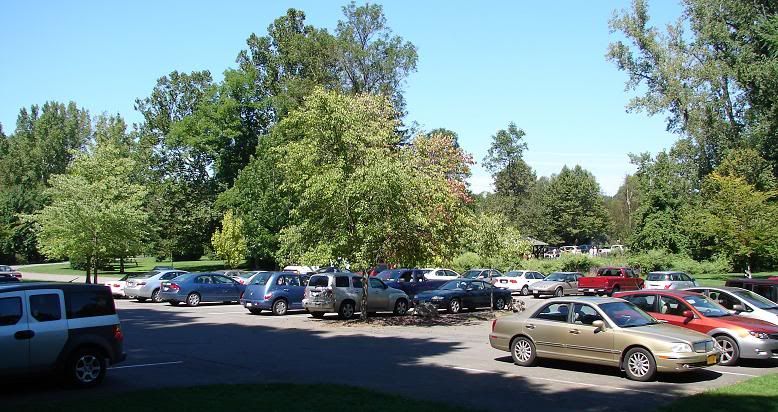 (All cars are of DOVETAIL attendees)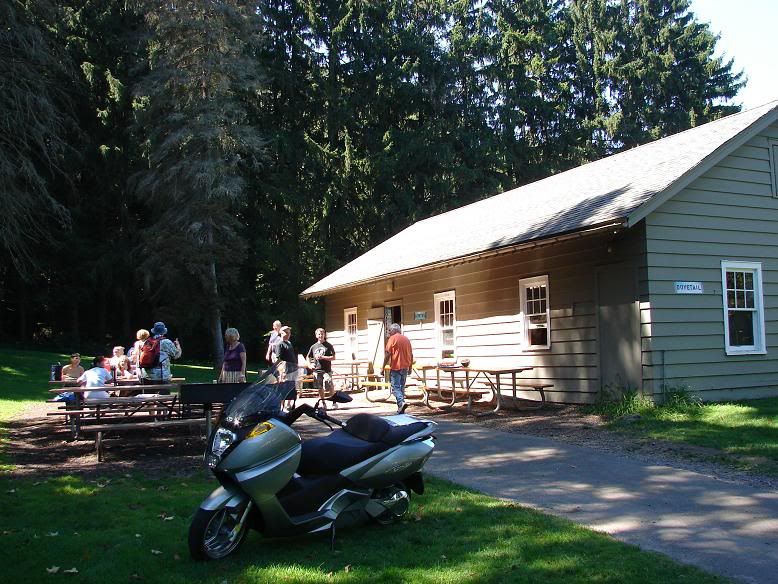 (... and an electric scooter)
The next day, August 29, Sunday, was my friend Lois Baum's big day. The event was called "Dovetail", and she had worked diligently on it for weeks, sending our notice after notice, easily 5 or more. This is the way to publicize an event, considering the saying that most people need to be told something 7 times before it sinks in. As a result of her diligence, she also reported a record-breaking attendance of easily over 50 people.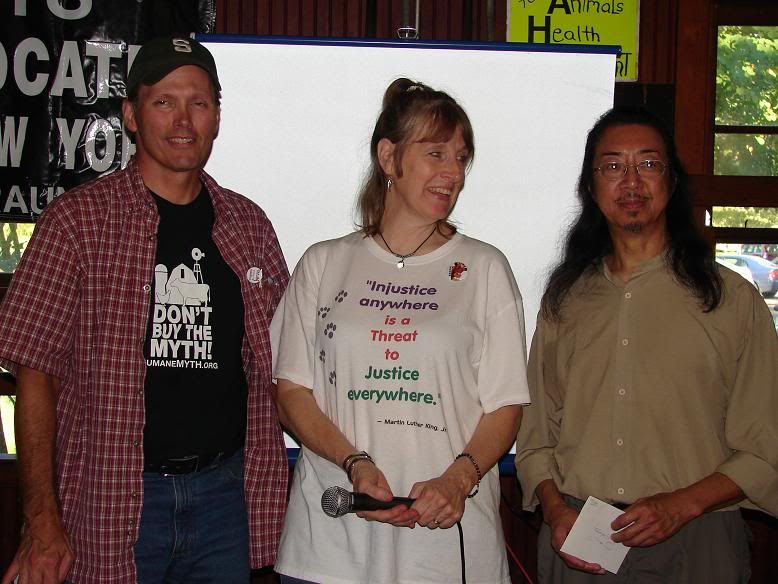 (Harold Brown, Lois Baum & Anthony Marr)
Following is one of her announcements:
Animal Rights Advocates Upstate New York (ARAUNY)
invites everyone to our very first
D.O.V.E.T.A.I.L.
(Daily Offering Vegan Ethics To All In our Lives)
DOVETAIL ~ an event bringing local grassroots, social justice groups together. A collective gathering of people opposed to all oppression and violence, who have a compassionate awareness of our planet. Dovetailing our energies for a better world, brought together by Animal Rights Advocates of Upstate NY.
* AUGUST 29th, 2010 (Sunday)
* 12:00pm begins (ends approx. 7:00pm)
* Open to the public
CATERED entirely by RAVS (Rochester Area Vegetarian Society: www.RochesterVeg.org)
~ a day-long PICNIC of Vegan foods, plus donations from area restaurants (Natural Oasis, Owl House, Golden Dynasty) as well as EcoBella Bakery's Vegan and gluten-free goodies! www.ecobellabakery.com
~ enjoy all the food/beverages provided for you ... all day long!
~~ BRING YOUR OWN PLACE SETTING ~~
DONATION$ GRATEFULLY ACCEPTED
~ and/or ~
RAFFLE TICKETS for a TOTE BAG full of Vegan, Cruelty-Free goodies for anyone
... no one turned away for inability to donate $$
... all proceeds will help defray ARAUNY's costs for this event, as we continue to
work for the prevention and abolition of all forms of animal abuse and exploitation.
P R O G R A M :
12:00 - Door Opens ~ come on in, and dive into the food!
12:30 - debut of the "DOVETAIL SINGERS", a new chorus of activists
1:00 - HAROLD BROWN, "A Life Connected"
www.farmkind.org Former farmer turned Vegan/animal advocate,
featured in the award-winning Tribe of Heart documentary
"Peaceable Kingdom: The Journey Home" (www.tribeofheart.org).
Will discuss the common thread of oppression in the world,
and the value of countering it together, in peace and harmony.
Questions and Answers to follow.
2:30 - more songs from the "DOVETAIL SINGERS"
3:00 - ANTHONY MARR, "Methane Time Bomb"
www.hope-care.org On speaking tour across USA from Vancouver, Canada, world renowned environmentalist and wildlife preservationist, anti-hunting and animal rights activist, author of two enviromentalist books,field geophysicist with a degree in physics from UBC, founder/president of Heal Our Planet Earth (HOPE) and the Global Anti Hunting Coalition (GAHC). Will address preventing runaway global heating, or in other words,the detonation of the methane time bomb.
Questions and Answers to follow.
4:30 - Fun with DR. VEGGIE (Ted Barnett, MD)
leads everyone in a game of *Vegan Jeopardy*
5:30 - PANEL LEADS OPEN FORUM on ALTERNATIVE ENERGY
All are encouraged to discuss and share solutions
to get off the grid!
Also in the building will be TABLING ~ various grassroots groups and individuals, artists for animals and the environment, selling their items, sharing their literature. Be sure to visit each table throughout the day (on the other side of the food tables).
- Green Irene: Margie Campaigne, eco-consultant for home & office energy efficiency
- Animal Artists: John and Steve Carbonaro, winner of art awards (www.NAVS.org)
- Nature Photographer: Ted Barnett
- Veg Mondays: Martha Sullivan, Debra Couch, Carol Barnett
- Electric Motorcycle and Car: David Daunce, advisor
- and more ... come and see!
All are welcome ~ bring others with you.
(If the weather is good that day, children could enjoy playing outside.)
(Dogs welcome too - ON A LEASH - YOUR RESPONSIBILITY).
Enjoy this indoor Vegan picnic (feel free to keep eating throughout the entire program)! We welcome you all, and thank you for being part of this day of caring energy,
coming together for the common good.
~ DOVETAIL ~
Lois Baum, President
Animal Rights Advocates of Upstate NY
P.O.Box 18415, Rochester NY 14618
(585) 234-1306
www.ARAUNY.org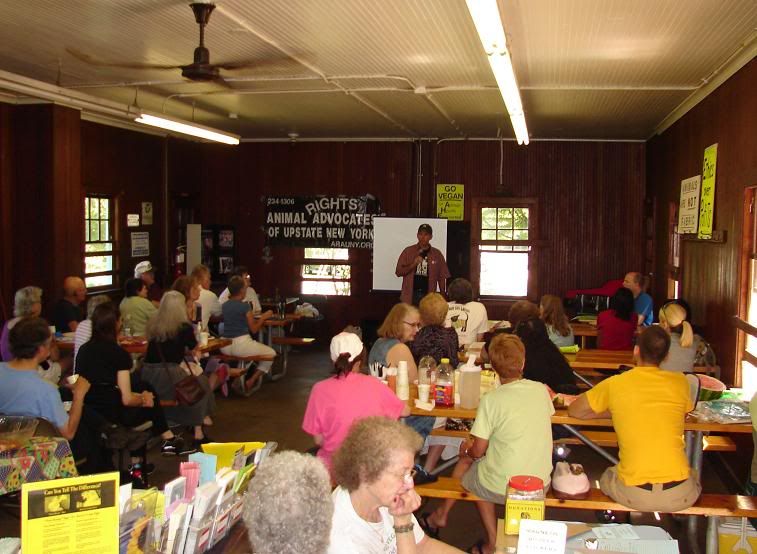 (Harold Brown giving his presentation)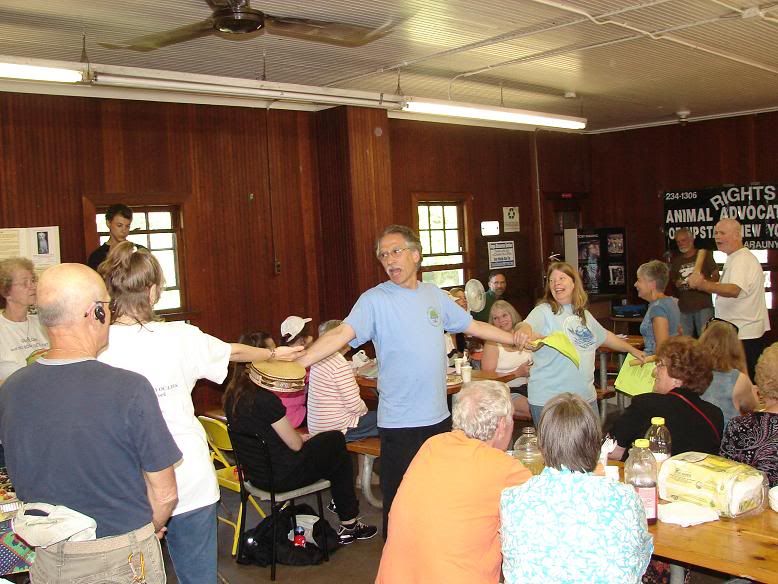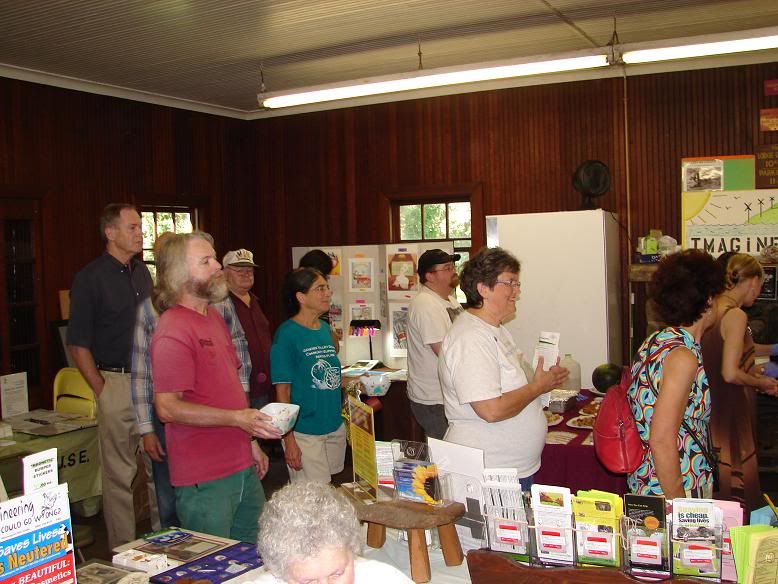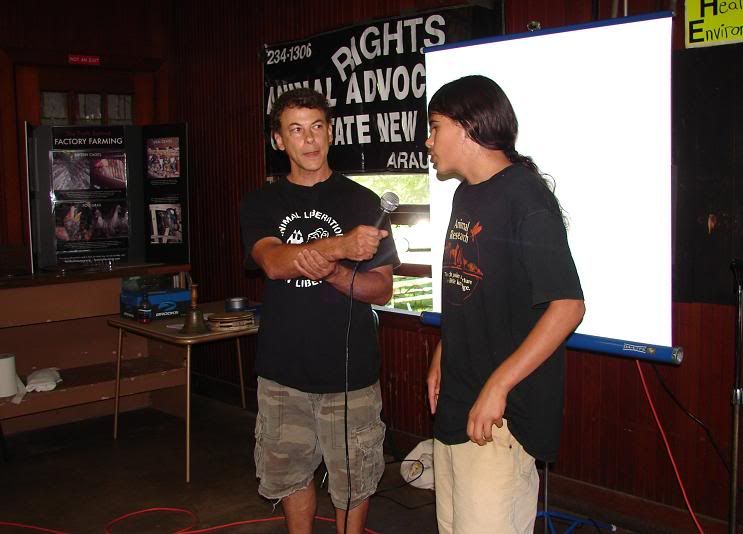 (John and Steve Carbonaro - father & son)
(John, Anthony & Steve)
So, all in all, I consider the New York leg of my 7th Compassion for Animals Road Expedition a great success. All in all, another big THANK YOU to Catherine Garneau for her excellent effort in continuing to organize the CARE-7 tour.
And to round it off, Ted B. has arranged a meeting between me and a potential future U.S. president before I leave New York this weekend for Swarthmore, PA. Not to be missed, so stay tuned!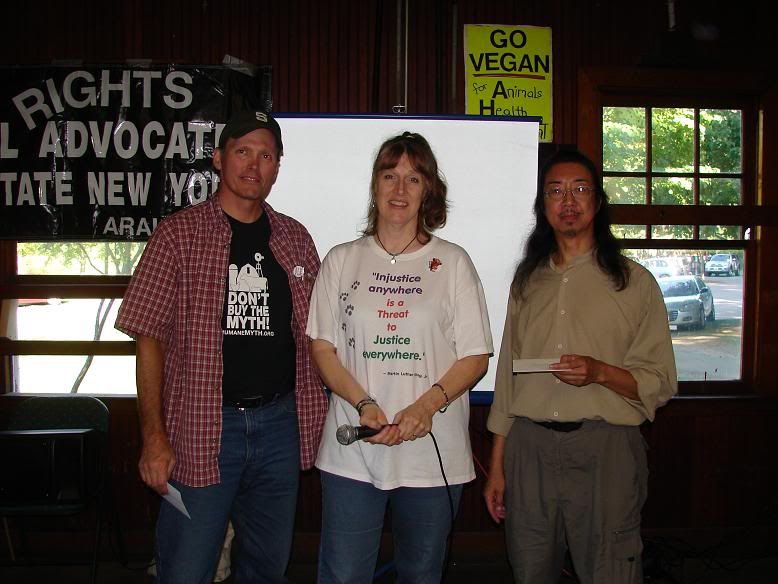 Anthony Marr, Founder and President
Heal Our Planet Earth (HOPE)
Global Anti-Hunting Coalition (GAHC)
Anthony-Marr@HOPE-CARE.org
www.HOPE-CARE.org
www.MySpace.com/AnthonyMarr
www.YouTube.com/AnthonyMarr
www.myspace.com/Anti-Hunting_Coalition
www.facebook.com/Anthony.Marr.001
www.facebook.com/Global_Anti-Hunting_Coalition
www.HomoSapiensSaveYourEarth.blogspot.com
www.ARConference.org