The Motorcade for the Seals,
Vancouver-Squamish
March 26, 2011.
The driving/riding distance of 64km is about one-sixth of the 360km single file of 360,000 dead baby seals along any highway.
My twin flags say, "NO SEAL HUNT".
Young Sophie Seal, daughter of Ericka Ceballos, founder of CATCA, co-organizer of event.
My "brother" Bruce Foerster, with whom I went to Japan in 2005 to perform an undercover operation in Shimonoseki where the Antarctic whaling fleet assembles before embarking to the killing sea. Bruce saved my ass at least once while I was in Japan, without which I might still be there.
Notice the bright sunshine? The weatherman predicted rain! Good thing I promised to ride my motorcycle rain or shine. So now it's shine. The Rain God seems to try to intimidate me, but once I said "Make my day", my day was made.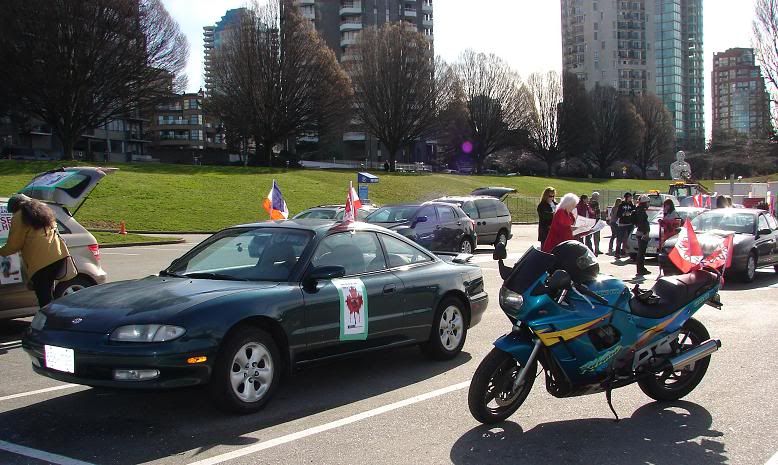 The Green Hornet (Mazda MX6) and the Turquoise Kat (Suzuki Katana GSXF600) in their glory. Too bad I had to leave the Blue Ninja at home. Couldn't find anyone who would dare to ride him.
I love everyone who came.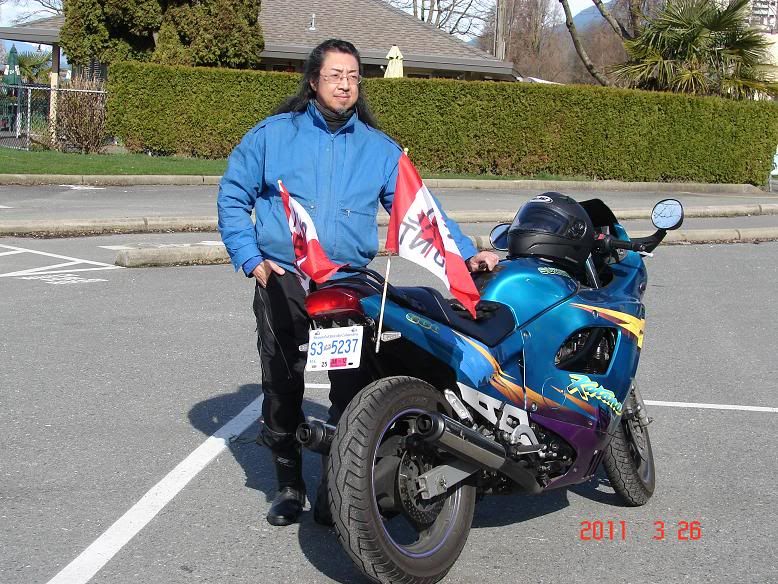 At this point, I did not realize that I had left the headlight on.
I would not have looked so relaxed had I known.
Chatting with my dear FB friend Bernadette Keenan, who showed up on her bicycle.
Thrilled to meet Sandra Mostrey, who has contributed many comments to my FB wall.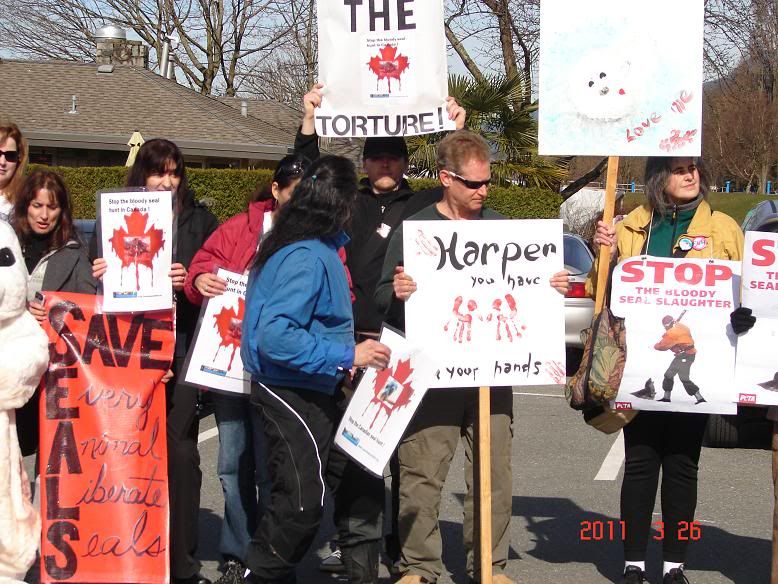 All the beautiful people. I may not be one, but you can see that even my hair band is color-coordinated! :)
Great banners, but they may or may not work, given the oft-demonstrated illiteracy of the pro-hunting government in anything involving compassion.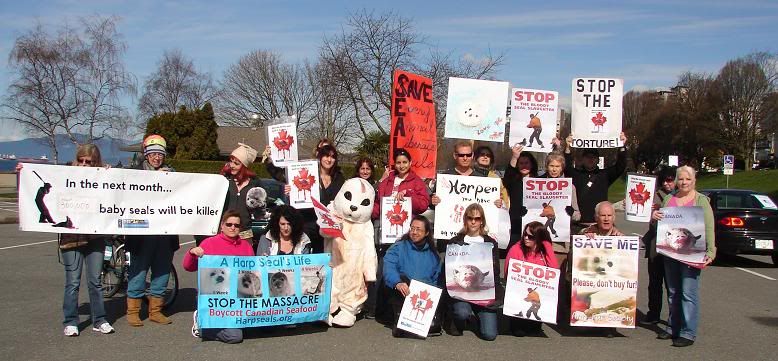 The best people in Vancouver on this meaningful day.
A second pic to prove that these are real people, not cardboard cut-outs. I am 3D, I assure you, since in addition to height and width, I've been told that I have a measurable amount of depth.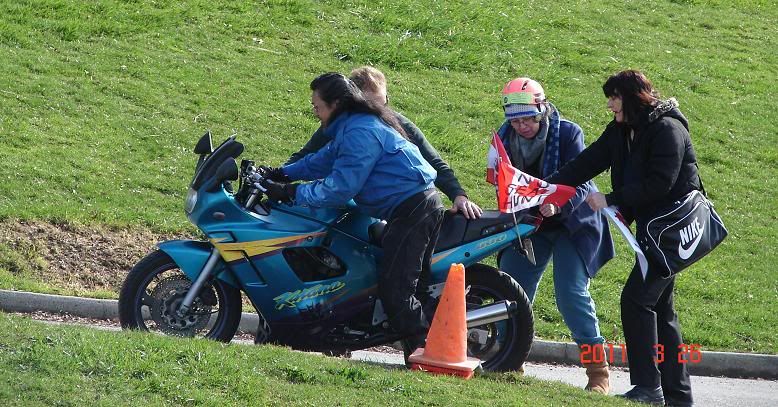 When the shit hit the fan. The troop is ready to move, but when I press on the starter button of the Turquoise Kat, not even a meow came out, much less a roar. Here, Bruce, Bernadette and Dora are helping me push the 480-pound beast up an incline, for me to jump-start him down hill. It worked, but in doing so, I momentarily lost my balance and almost dumped the bike. With "super-human" strength, I righted him from 30 degrees off vertical (a lot for a heavy bike), but in doing so, I disabled my left arm for half an hour.
Young Sophie Seal bestowing peace upon humans while she waits.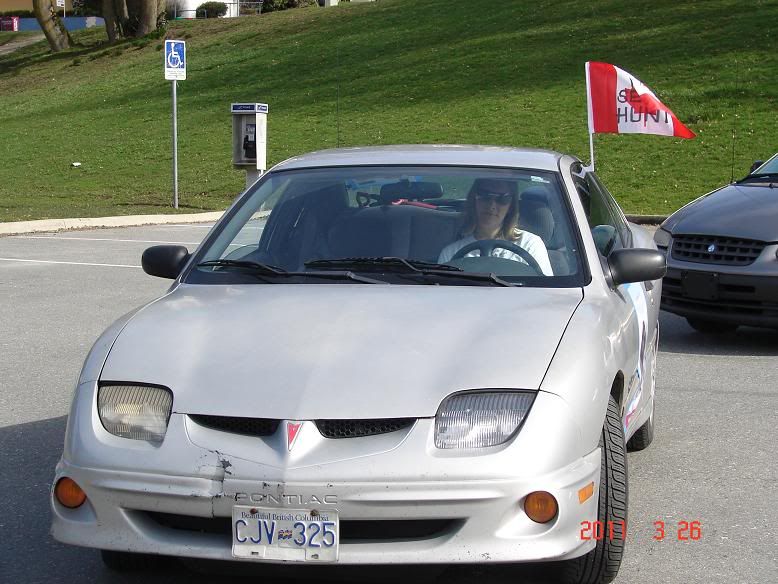 Denise McFarlane who drove the "video car".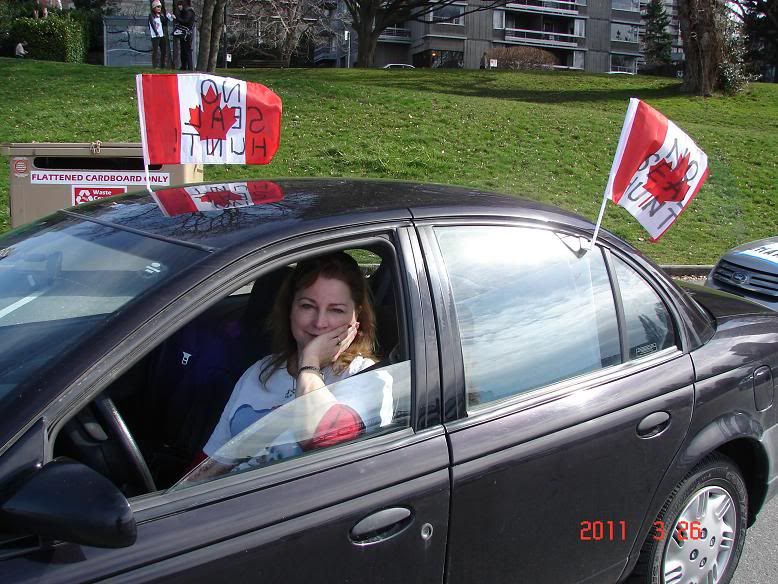 Lovely unnamed lady. Please message me your name and I will place it here.
Sandra Mostrey and friend (name please).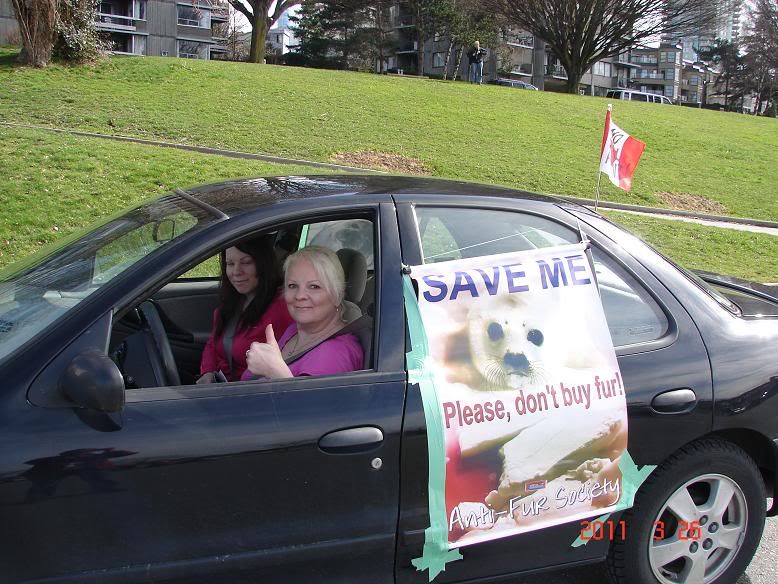 Charlene Sjoberg and Erica Thompson.

The troop was ready, but my left arm was out of commission.
Thank goodness for patient people.
At long last, with left arm barely working, I lead the troop on to the road.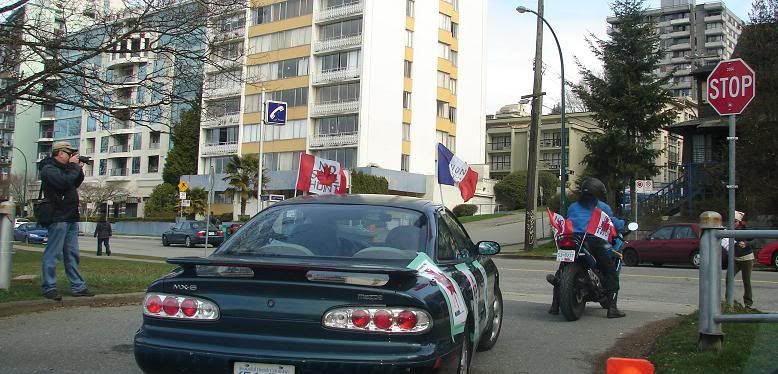 The Green Hornet being graciously driven by my dear FB friend Sonia Fey. Note media photographer on left.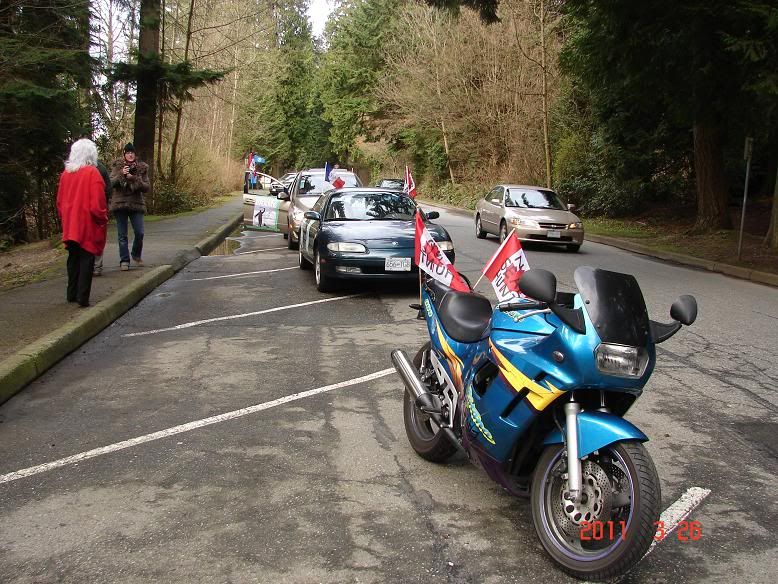 Waiting at Lost Lagoon, Stanley Park, for stragglers. :)
Waiting near the entrance to the Lions Gate Bridge, for cars that took the wrong turn! :)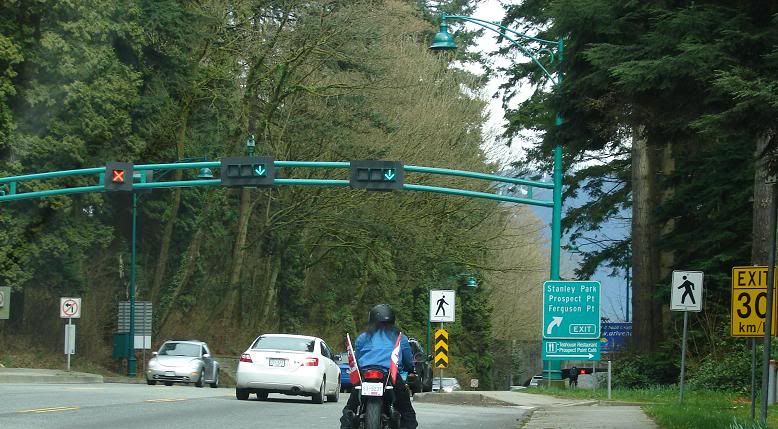 Getting on to the Lions Gate Bridge. It being a sunny weekend day, the traffic was moderate to heavy. We wish our message to be seen, and we were seen - by lots of people along our route.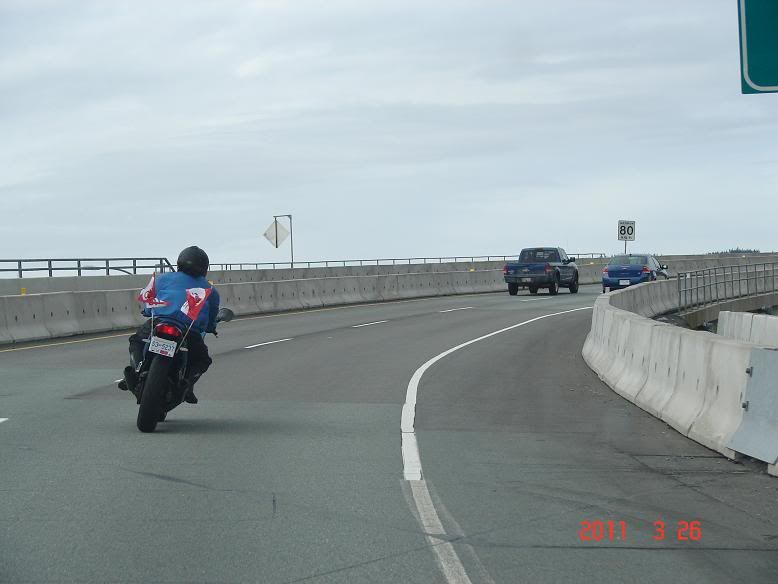 Finally!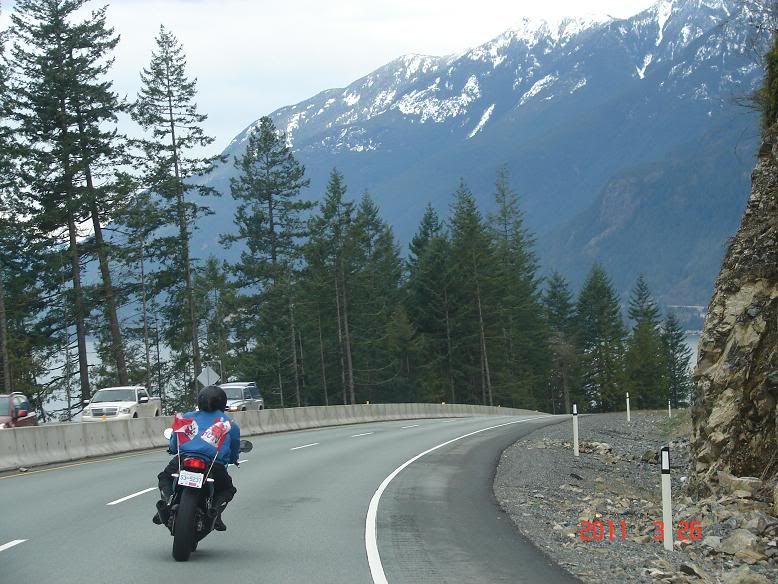 Sea-to-Sky Highway, here we come!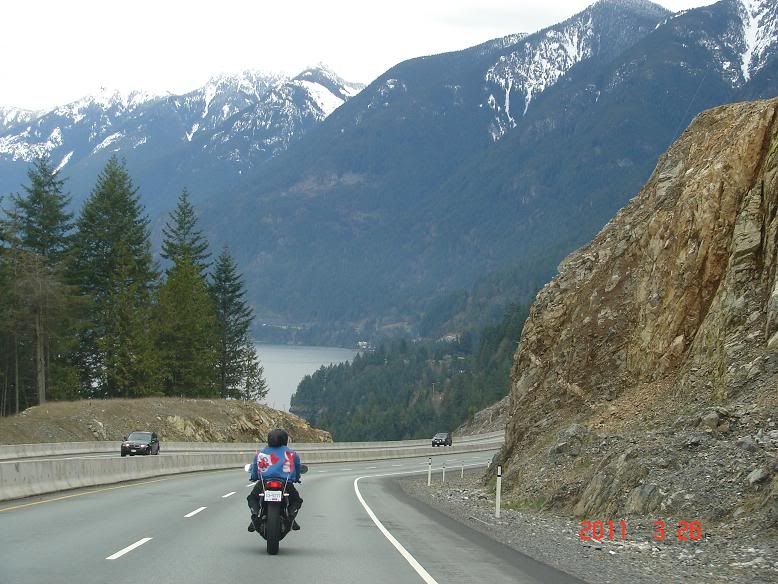 Sea, sky, and snow-covered mountains at every turn. Reminder: THE LINE OF DEAD BABY SEALS ALONG THE HIGHWAY.
A brief pit stop in Britannia Beach at the 20-dolphins-out-of-a-single-log statue.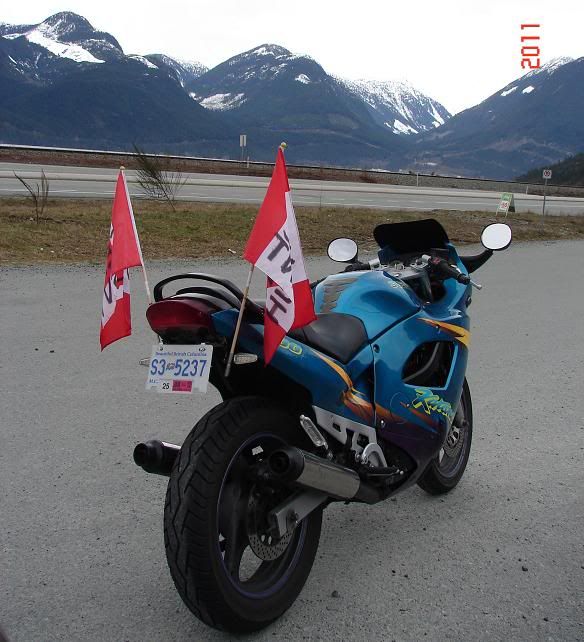 The Turquoise Kat - a roaring feline with a mission.
The following pictures by Amanda Daniel.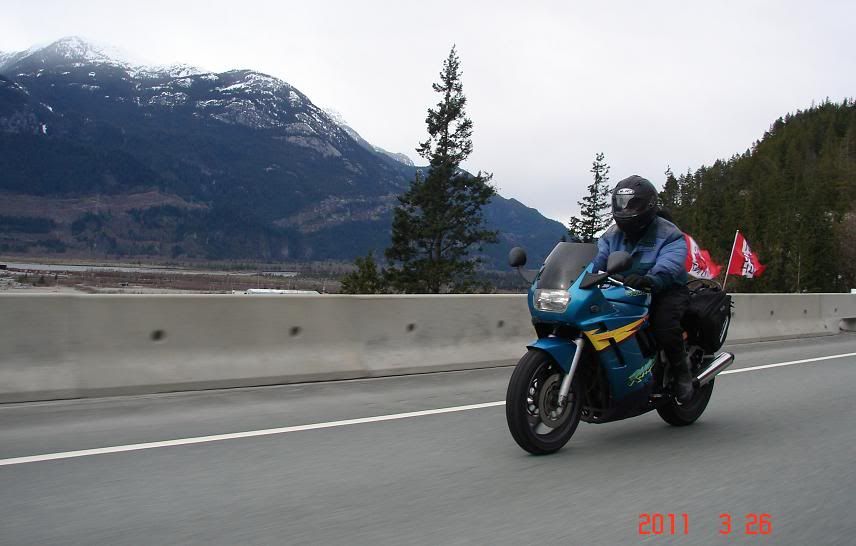 The Kat on a mission.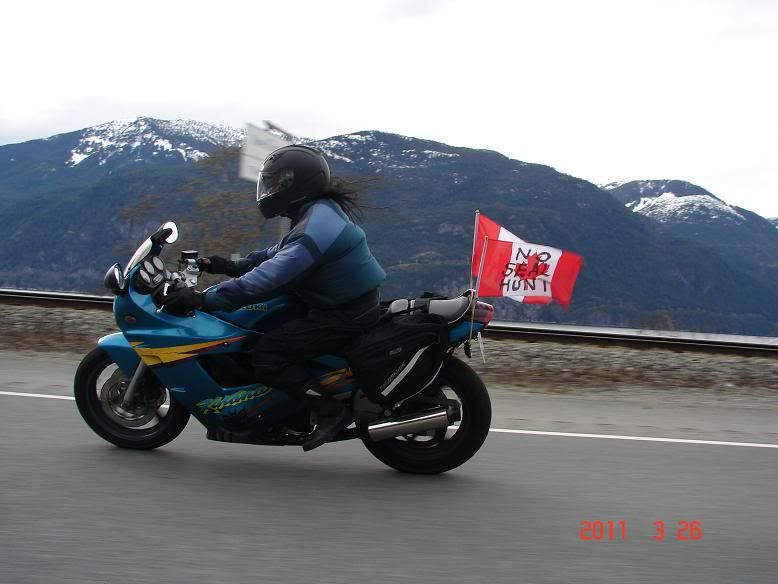 Flying along the line of dead baby seals along the highway.
Mission for Nature amidst natural beauty.
Re-reminder: THE LINE OF DEAD BABY SEALS ALONG THE HIGHWAY!
NO SEAL HUNT!!!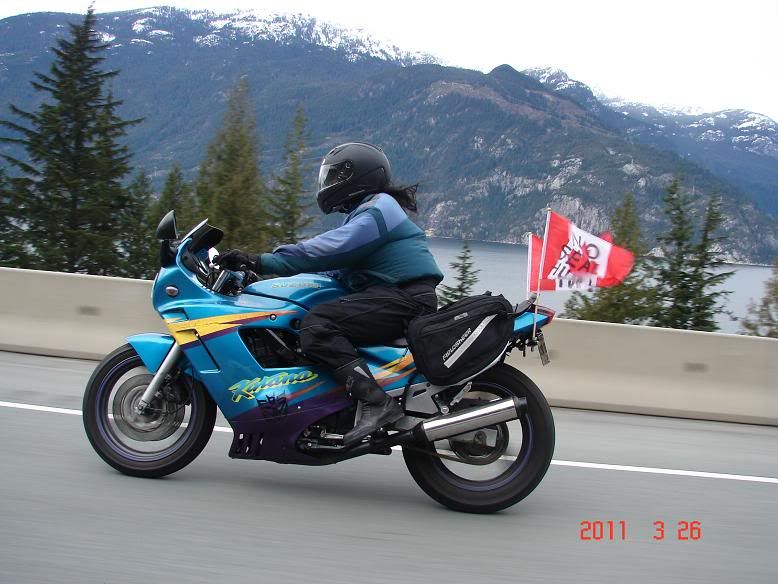 I repeat: NO SEAL HUNT!!!!!!
In Squamish, split-second before impact. Just kidding.
Let this picture be my forever declaration against hunting of any kind. Eat my dust, cowards!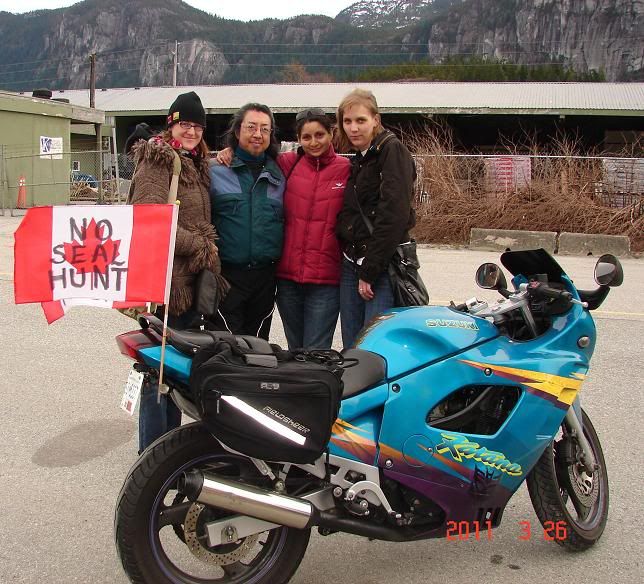 Lunch in Squamish with my dear friends Amanda Daniel, Ericka Ceballos and Denise McFarlane, Sandra Mostrey, Bruce and other wonderful ladies (names please). The flag is full blown as if the bike were moving at 100 mph. This what I call "Written in the wind."
Back on the highway, this time it is "Sky-to-Sea".
Until next time, so long everybody! Re-re-reminder: REMEMBER THE LINE OF DEAD BABY SEALS ALONG THE HIGHWAY!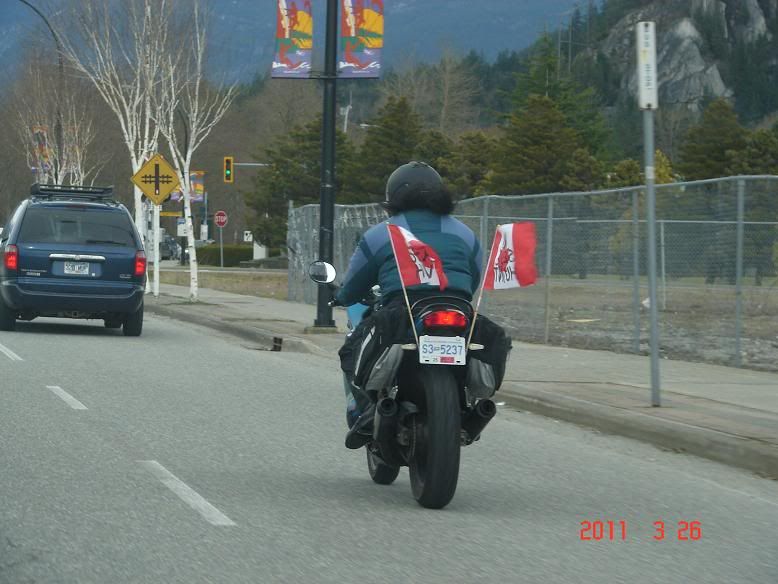 Homeward bound, on my red wings and a prayer.
MOTORCADE FOR THE SEALS, Mar. 26, Sat., Vancouver-to-Squamish BC from Anthony Marr on Vimeo.
With even greater appreciation for those came, I have to say that before the demo, I had posed the question: "Some weeks ago, on the 100-slain-sled-dogs issue, 300+ people braved inclement weather to come out for the demo. How many will come out for 360,000 baby seals?" Implying much fewer, and it was. Why, I will never understand.
Please comment at will.
Anthony Marr, Founder and President
Heal Our Planet Earth (HOPE)
Global Anti-Hunting Coalition (GAHC)
Anthony-Marr@HOPE-CARE.org
www.HOPE-CARE.org
www.facebook.com/Anthony.Marr.001
www.facebook.com/Global_Anti-Hunting_Coalition
www.myspace.com/AnthonyMarr
www.youtube.com/AnthonyMarr
www.HomoSapiensSaveYourEarth.blogspot.com
www.myspace.com/Anti-Hunting_Coalition
www.ARConference.org
206-259-9679