Resurrection trumps Funeral
April 7, 2010, Wednesday
I'm writing this in my car while Anthony Damiano is driving. It is now 11:45 a.m. and we finally left our host Holly's place in Tualatin near Portland, where we stayed since late night April 2, Friday. We're aiming for Nan's place in Santa Rosa, California, about 550 miles due south by I-5, estimated driving time by GPS around 10 hours; with pit stops, around 12 hours. Nan said that even if we arrived at 3 a.m., to just ring the door bell, so we're not hustling.
I said "finally" because we did leave Holly's place earlier than 11, but there were a few mishaps. First, through no one's fault in particular, we spilled a whole tall cup of coffee on to the floor of the passenger compartment of my car. Then about 10 miles out, Holly called me on my cell and told me that I had left my computer bag behind. Probably referring also to my having left my sweat shirt and sweat pants at Veda's, AD said to me somewhat gruffly, "We can't afford to do this every time." I swallowed my pride, and asked him to turn the car back. At Holly's I took the opportunity to say that it was my excuse to see her again, and she laughingly pointed out that we had left one more thing behind. I looked, and that was the box of 9mm ammo we bought for AD's pistol for practicing purposes. When I told her about AD chastising me about leaving the bag behind, we had a good laugh. Back in the car, I played the guessing game with AD for a while, and finally told him what it was. He tried to argue back, but by then, the game had run its course. We laughed it off, and headed on south.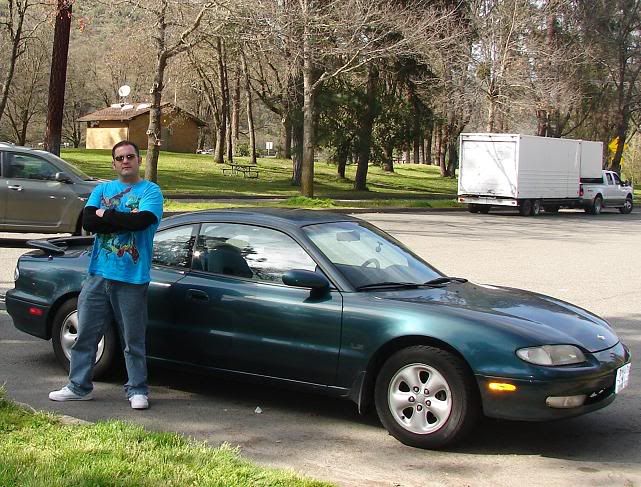 Joking aside, perhaps due to the public WiFi we've been using, both our computers were suddenly swamped by viruses and worms and trojans. As I'm writing this, I'm doing a virus scan with a new program that AD suggested, named SuperAntiSpyware, which seems to be doing the job, but still too early to say. This morning, I couldn't even open Firefox, or even a word document, and likewise for his computer. Now, having quarantined and deleted over 1000 offensive objects some of which having been missed by my default anti-virus program (AVG-free), I'm rescanning the computer, and all seem cleared. Fingers stilled crossed.
One of the WiFi places was the Mazda dealer in Portland, where I took my car for servicing. "Servicing" is a bit of an understatement. Before leaving Vancouver, BC, I had my car checked out. It needed a new timing belt, and with it the water pump, plus new bushings at the front left wheel, and a few small things, all in all easily $1000+ for the timing belt and water pump alone. I did some checking, and found that Oregon had the lowest price (timing belt + water pump + labor for $602, plus NO tax). How they do it without tax I have no idea. But if OR can do it, any state can.
While waiting for my car to be ready, we were invited to use the free WiFi at the dealership. We settled down at a table in the showroom and worked away, chatting intermittently. After a bit, a middle-aged salesman sat down at a table near by, and showed overt interest in our conversation, which happened to be on the environment. After a bit, the gentleman approached us and asked us what we thought about global warming. As it happened he was very well aware of it, and accept it as a fact, and so did his younger colleague who joined us for a while. At one point, I asked them what was happening to the GM Volt (pure electric car), and they spontaneously and simultaneously broke into derisive laughter. The older gentleman said, "It is all about tax break." Apparently, in spite of the huge bail out package, GM is required to do little or nothing to promote green technology beyond the token Volt, which is not being seriously marketed either. "It is just another EV-1," said the older gentleman. The EV-1 was what GM crushed a couple of decades back to kill the electric car. As we spoke, I saw that there were only 2 vehicles parked in the showroom, both large SUVs, with fuel economy in the 15 mpg city/22 mpg highway range. Not good. The two gentlemen were openly scornful and critical of the oil industry as if their words had come out of my own mouth. They were openly in favor of green technology. Through it all, the place was quiet. For the almost 6-7 hours we spent in that showroom, I saw no more than 4-5 "tire-kickers", and only one young couple sitting down to sign papers. I asked the gentleman whether the economic downturn had impacted negatively on his business. "Hell yes!" he said. "Previously, we used to sell 6-8 car a day, now, just one or two on a good day. Lots of dealers are folding." In fact, I was wondering how this one was surviving. I guess they subsist on parts and service of existing vehicles. This was quite a revelation, that people in the car business are openly against the oil industry. They even mentioned the Alberta tar sands, but only in theory. When I told them that not only had I visited the Suncor mine on foot, but had flown over 4 mines for 2 hours in a chartered plane, they were all ears, and all eyes when I showed them a few of the pictures I had taken of the hell hole. So all in all, it was an eye opener, for them, and for us. The thing that opened my eyes even wider was the repair bill - a cool $1100, including a new timing belt, water pump, tensioner, thermostat and a radiator flush. Some more funding needs to be raised just to keep the tour going.
Another eye opener for us, no, for me, was the "heat tolerance" of Anthony D, in both senses of the word. He loves and thrives in the humid heat of Florida, so when Washington and Oregon offered him nothing but cold and rain, he couldn't wait to go south. Good thing that Oregon turned sunny for him finally, now that we're almost at California border. Portland is sunny too, but AD will forever hold that city as one of cold rain. The other heat I'm talking about is in terms of culinary taste. While my car was being worked on, the dealer got a guy to drive us to the nearest strip-mall, where we found a little Asian restaurant. We both ordered tofu and veg on rice. But while I was savoring the delicate texture of the tastes, he pile on about a third of a bottle of hot chili sauce. And today, while taking a lunch break in some Japanese restaurant in Eugene, he took in chunks of wasabi the size of sushi roll segments without batting an eye. Correction. Yesterday, he ended up with a nose bleed during his episode with the red hot chili sauce.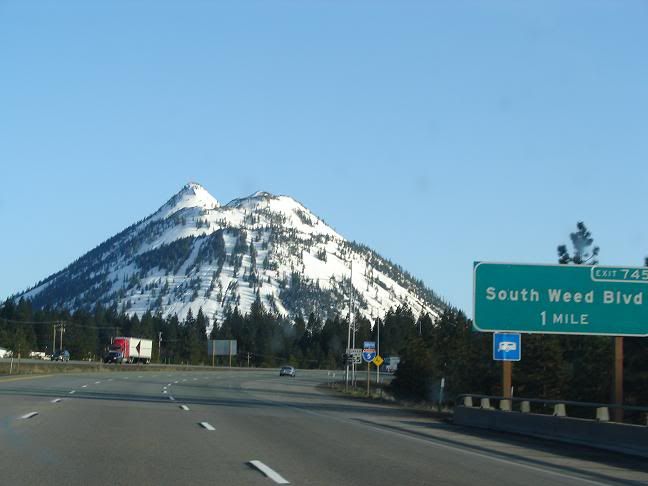 Of course all the expenditure and food and nose-bleeds, and potential dangers, are integral parts of the tour, and the tour is all about saving animals, our children's future and the planet. I'm glad that our first funeral motorcade of the tour, the Funeral Motorcade for the Sea Lions in Seattle, Washington, was a hit, and it set the tone for the tour. Were the Portland motorcade the first, the tone would have been very different, and not in the good sense. In spite of the warm, charming and stimulating company of our host Holly and her daughter Jenna, unfortunately, the Portland motorcade was a bust. On Saturday, the day before the scheduled date, Matt Rossell of the Portland branch of In Defense of Animals called me with the disappointiung news that probably due to it's being Easter Sunday, the response to his RSVP call-to-action was near zero. We discussed that if not enough people and cars showed up, it would be seen by media and public alike as weakness rather than strength. So we jointly decided to cancel the event and fight another year. And this gave us another day to fill up the program in California.
We are now skirting the stunning Mt. Shasta and Black Butte Mountain near the Oregon/California border. So, California, here we come!
Anthony Marr, Founder and President
Heal Our Planet Earth (HOPE)
Global Anti-Hunting Coalition (GAHC)
Anthony-Marr@HOPE-CARE.org
www.HOPE-CARE.org
www.ARConference.org
www.MySpace.com/AnthonyMarr
www.YouTube.com/AnthonyMarr
www.myspace.com/Anti-Hunting_Coalition
www.facebook.com/Anthony.Marr.001
www.facebook.com/Anthony-Hunting_Coalition
www.HomoSapiensSaveYourEarth.blogspot.com
www.facebook.com
(search for "Anthony Marr Heal Our Planet Earth")
216-386-7362 begin_of_the_skype_highlighting              216-386-7362      end_of_the_skype_highlighting (while on tour in the USA)